New Contributor
Mark as New

Bookmark

Subscribe

Mute
Hi All,
We are creating a large GIS model and then we wish to use that model to inform procedures to turn the model to a 3D representation.
As part of this process we have used the Spatial ETL Tool in ArcGis to read a set of Room Layout Plans and create simple GIS features including rooms and floor outlines.
We have then used this data to create a Room by Room model and a Floor by Floor model within City Engine 2014/2015 by taking our GIS File Geodatabase and providing rules to create simple and textured buildings. This appears to work well and show potential as a route to model a complete area.
We understand how we can use CGA scripts to texture and add features to the buildings. What we not however sure how to do the following;
The CAD drawings contain the locations of features such as Windows and Doors. We can import this from the CAD drawings and load into a FileGeodatabase without too much problem. What we are not sure about how to do is to use this data within the CGA scripts to accurately position window and door features within the building structures.
Can anyone help?
Thanks,
Paul
1 Solution

Not applicable
Mark as New

Bookmark

Subscribe

Mute
Hi Chris and Paul,
Yah, that is dead on. Either you have to have 3 stacked polygons, one for the wall to bottom of window, window up, and then window to top of wall or you make a rule that creates a blended piece of geometry. In the case of Abu Dhabi's BDMS we create a rule where they included with in the polygon the distance to bottom of sill, and then the height of the window. The top was just filled in with wall.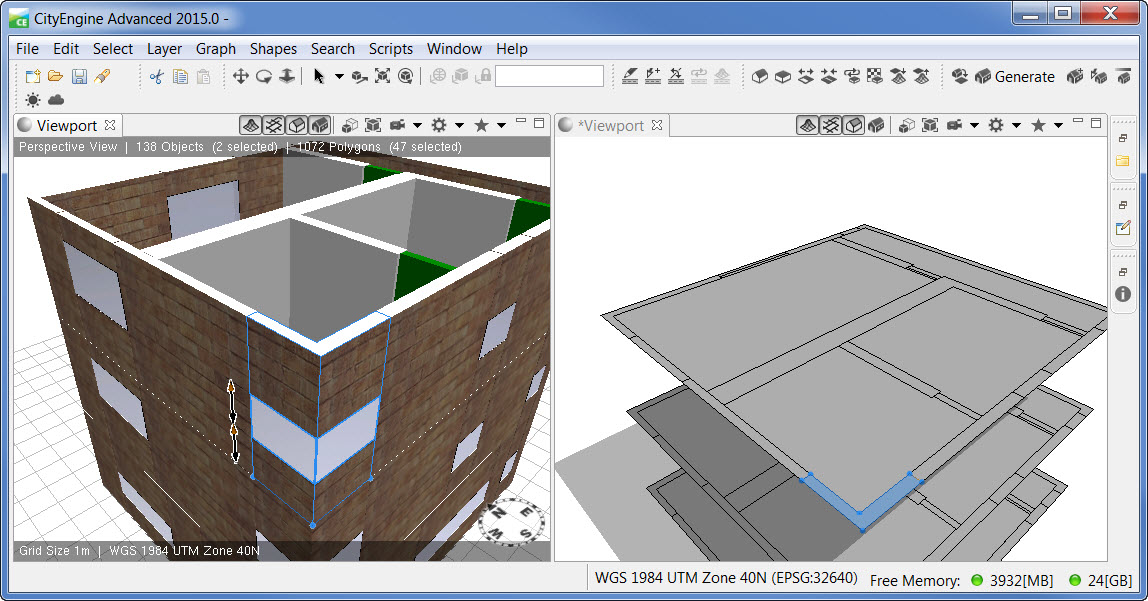 We exposed some handles so the values could be interactively changed from the view port.
EW
9 Replies