New Contributor
Mark as New

Bookmark

Subscribe

Mute
Hello Esri Community
I am new user of ArcGIS , trying to develop native app with Apps Studio by using quick report template. it is definitely challenging for new users.
I am interested to develop native app need to be able to do the following. add point of user location and status (completed, in progress, New), photographs .
I have been following available video tutorial and lesson plan on ESRI, still not concluded with my project.
My hurdles are following
1 : The points not displayed on map after adding feature layers in app templates
2: I m unable to figure out where or how you can change the details of the presenting style for example I want to show my Point layer instead of Wildlife Response file by clicking shows Status of Projects ( Complete, new , In progress) and by choosing on status shows (the populated list of projects according to status) then when i select project the move toward next slide of map .
3. I m not understanding how to add webmap id , from where i can get webmap id.
4. How to create Moblie map package for offline coverage
5. also want to add Option to find route direction .
Thanks
Sajjad Hussain
1 Reply

by
TinaJin

Esri Regular Contributor
Mark as New

Bookmark

Subscribe

Mute
Hi Sajjad,
Thank you for your interest in the Quick Report template.
1) The map you see in the Quick Report is reading the web map ID from Settings > Form > Web map ID for the Map to choose location. We provide an empty map by default. That's why you didn't see your points on the map.
To show your points on the map, you will need to create a new web map with your feature layers in it and then provide the web map ID here.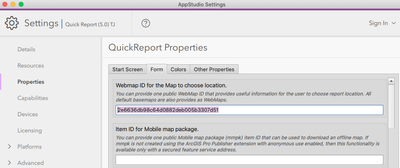 2) You can change styles by changing visualization settings for your feature layer item in ArcGIS Online or Enterprise.
First, open the feature layer item in ArcGIS Online or Enterprise > Visualization tab > Click on the change style icon in the left panel to change the style > Save
This style should be reflected in the Quick report template.

3) To find web map ID, open the web map items in the ArcGIS Online or Enterprise. You can see the web map id from URL.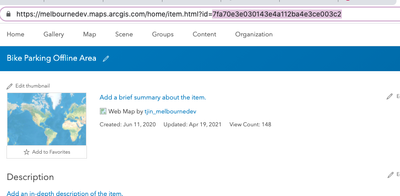 4) You will need to create a Mobile map package in ArcGIS Pro, and you can learn more here.
Notice that if your feature layer is public, then the MMPK should be created with the ArcGIS Pro Publisher extension with anonymous use enabled.
5) You will need to customize the template to support routing and direction. I would suggest you take a look at the Runtime route and direction documentation and samples. You can also find samples in AppStudio Desktop > New App > Samples > search for routing samples.
I hope this will help you. Please feel free to ask questions here.
Thanks,
Tina