Occasional Contributor
Mark as New

Bookmark

Subscribe

Mute
Hello,
I am trying to use some arcpy tools in Jupyter Notebooks but it doesn't appear as though I can use a FeatureLayer object as an input. Here is an example.
I obtain my feature layer by getting the feature collection using the item id and then calling the first (and only in this case) layer. This returns a FeatureLayer object. I can easily find the fields as follows:

However, when I use the arcpy equivalent function it tells me that
OSError: "<FeatureLayer url:"https://services8.arcgis.com/.../FeatureServer/0">" does not exist"
even though it actually does.

Interestingly when I pass the FeatureLayer object's URL in it works.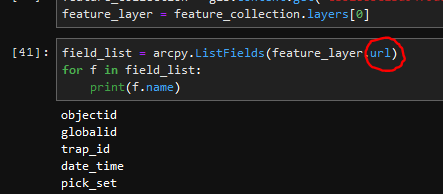 Can someone explain why I can't use the FeatureLayer object directly or what the difference is?
Many thanks.
1 Solution

Occasional Contributor
Mark as New

Bookmark

Subscribe

Mute
Searching though something entirely unrelated I found this:

The .as_arcpy converts the features into features that can be used in arcpy. I haven't seen any official documentation on this anywhere but it seems to work.
Here is a link to the reference visualizing data with the spatially enabled dataframe | ArcGIS for Developers
6 Replies