Occasional Contributor
Mark as New

Bookmark

Subscribe

Mute
Hi everyone - I have a GeoJSON file that I loaded to ArcGIS Online as a hosted feature layer. The GeoJSON file updates periodically, and I want to automate overwriting the whole AGOL hosted feature layer layer with the latest data. I am using Python to automate this, and I honestly don't care if I use the ArcGIS API for Python or just interact with the REST services directly. I'd like to avoid ArcPy so I can install it on a linux server with no other ArcGIS software.
Manually, it's really easy to do this (see screenshot). I initially loaded a GeoJSON file to AGOL. I find its hosted feature layer, click on "Update Data", select the overwrite option, select the new file, and it's all taken care of. This is the process I'd like to automate.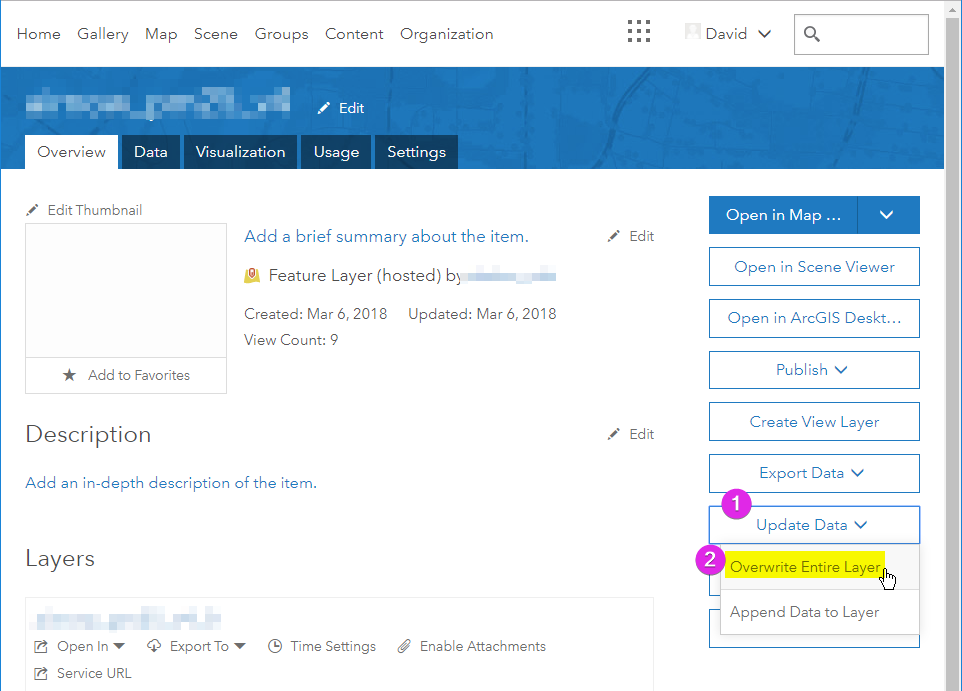 In the ArcGIS API for Python, I see the FeatureLayer object has an append method, which looks like what I want. That method has an "upload_format" input, and "geojson" is one of the options. But where and how do I pass in the GeoJSON file itself? I couldn't find any code samples of this.
Note1: I suppose I could read the GeoJSON and construct a "regular" feature request, but I'd like to find a way to just upload the whole GeoJSON file, like I can do with the AGOL web GUI.
Note2: I probably need to delete old features before I append, but I know how to do that, if needed.
As I said, I am ok with just interacting with the REST API via Python, if that's any easier. I tried watching Chrome Developer Tools while I did the manual steps above, but I couldn't quite figure out how to replicate that.
thanks!!!
1 Solution

Occasional Contributor
Mark as New

Bookmark

Subscribe

Mute
Robbie Bagby‌ & Eric Shreve‌ put me on the right trail above.
The key is this method:
https://esri.github.io/arcgis-python-api/apidoc/html/arcgis.features.managers.html#arcgis.features.m...
Connect to your server, get the right layer (named 'layer' in the code snippet below), and then do the following:
collection 

=

 arcgis

.

features

.

FeatureLayerCollection

.

fromitem

(

layer

)


overwrite_result 

=

 collection

.

manager

.

overwrite

(

file_path

)

‍

‍

‍
In my case, I was creating a hosted feature layer from a GeoJSON, but it will work with a shapefile, FGDB, etc. It will create duplicate items with the same name, but one is type "Feature Layer (hosted)" in the web interface (which is callled "Feature Service" in the API) and the other is JSON, FGDB, shapefile, etc. You want to find and use the former layer in the example above.
Also note that when I was doing this last year, it would always overwrite the symbology I set on it every time I updated the data. This seemed like a bug, so maybe it's fixed now, but FYI.
8 Replies