New Contributor III
Mark as New

Bookmark

Subscribe

Mute

Email to a Friend
BACKGROUND
I am not a web developer. I am sure I violate all sorts of best practices and code conventions. Feel free to suggest code optimizations if you're so inclined.
I am trying to simply add a building 'highlight' and change the cursor to pointer on hover. I don't want to change the fill inside the building like in the example below. I just want to add a highlight outline.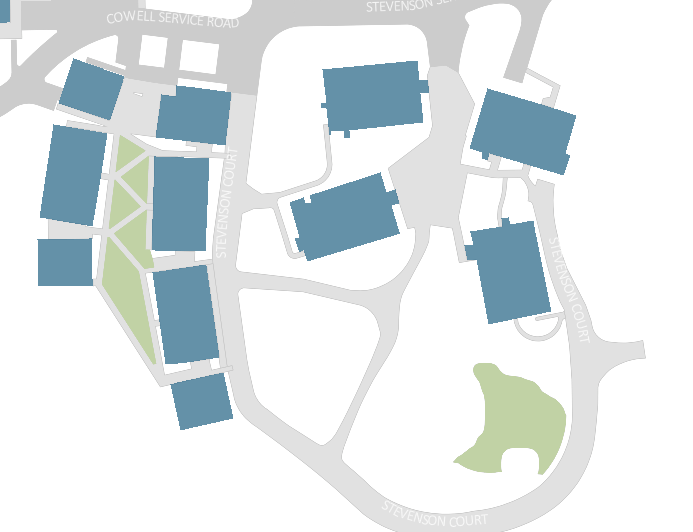 QUESTIONS
Any idea what may be causing my feature layer to 're-render' on hover?

all other features in the layer turn off then on again during the unique value renderer change that is triggered by the hover event
I'm hoping to avoid the 'blinking' effect. Just want to change the unique value renderer on the building that was hovered over without adjusting the rest of the layer symbology
something like, "if hittest returns an item in the buildings layer, add a graphic on top of the existing layer with custom symbology without reloading the entire layer"

How can I get the cursor to change to the pointer on the polygon fill as well? Currently, the arrow only changes to pointer when it is over the building outline.

This might be due to my custom symbology
CONSIDERATIONS
I have many layers in this map. The filter method on line 43 wasn't working, so I made a conditional on line 41 to only return hits from my buildings_lyr. I am sure this can be optimized if you have suggestions
CODE
This code was taken from this thread and adapted to my particular use.
It's possible that I unknowingly removed bits of the code that is causing the weird functionality.
Please pardon the indentation errors, this is just how it pastes into the syntax highlighter.
function

 

changeCursor

(

response

)

{


        

if

 

(

response

.

results

.

length 

>

 

0

)

{


          document

.

getElementById

(

"viewDiv"

)

.

style

.

cursor 

=

 

"pointer"

;


        

}

 

else

 

{


          document

.

getElementById

(

"viewDiv"

)

.

style

.

cursor 

=

 

"default"

;


        

}


    

}


  
  	

function

 

getGraphics

(

response

)

 

{


  		

// the topmost graphic from the click location


  		

// and display select attribute values from the


  		

// graphic to the user


  		

var

 graphic 

=

 response

.

results

[

0

]

.

graphic

;


  		

var

 attributes 

=

 graphic

.

attributes

;


  		

var

 name 

=

 attributes

.

BUILDINGNAME

;



  		dom

.

byId

(

"info"

)

.

style

.

visibility 

=

 

"visible"

;


  		dom

.

byId

(

"name"

)

.

innerHTML 

=

 name

;



  		

// symbolize all line segments with the given


  		

// storm name with the same symbol


  		

var

 renderer 

=

 

new

 

UniqueValueRenderer

(

{


  			field

:

 

"BUILDINGNAME"

,


  			defaultSymbol

:

 buildings_lyr

.

renderer

.

symbol 

||

 buildings_lyr

.

renderer

.

defaultSymbol

,


  			uniqueValueInfos

:

 

[

{


  				value

:

 name

,


  				symbol

:

 

new

 

SimpleFillSymbol

(

{

 
  					color

:

blue

,


						outline

:

 

{


							color

:

 orange

,


							width

:

 

1


						

}


  				

}

)


				

}

]


  		

}

)

;


  		buildings_lyr

.

renderer 

=

 renderer

;


  	

}



  	view

.

on

(

"pointer-move"

,

 

function

 

(

evt

)

 

{


  		

var

 screenPoint 

=

 

{


  			x

:

 evt

.

x

,


  			y

:

 evt

.

y
  		

}

;



  		

// the hitTest() checks to see if any graphics in the view


  		

// intersect the given screen x, y coordinates


  		view

.

hitTest

(

screenPoint

)


  			

.

then

(

function

 

(

response

)

 

{


  				

if

 

(

response

.

results

.

length 

>

 

0

)

 

{


  					

if

 

(

response

.

results

[

0

]

.

graphic

.

layer

.

title 

==

 

'buildings_app'

)

 

{


  						

const

 graphic 

=

 response

.

results

.

filter

(

function

 

(

result

)

 

{


  							

return

 result

.

graphic

.

layer 

===

 buildings_lyr

;


  						

}

)


  						

changeCursor

(

response

)

;


  						

//getGraphics(response); //!!Uncomment this when getGraphics is fixed


  					

}


  				

}

 

else

 

{


  					

changeCursor

(

response

)

;


  				

}


  			

}

)

;


				
  	

}

)

;


	  
		buildings_lyr

.

then

(

function

(

)

 

{


			

var

 renderer 

=

 buildings_lyr

.

renderer

.

clone

(

)

;


			renderer

.

symbol

.

color 

=

 

[

255

,

255

,

255

,

1.0

]

;


			buildings_lyr

.

renderer 

=

 renderer

;


		

}

)

;

‍

‍

‍

‍

‍

‍

‍

‍

‍

‍

‍

‍

‍

‍

‍

‍

‍

‍

‍

‍

‍

‍

‍

‍

‍

‍

‍

‍

‍

‍

‍

‍

‍

‍

‍

‍

‍

‍

‍

‍

‍

‍

‍

‍

‍

‍

‍

‍

‍

‍

‍

‍

‍

‍

‍

‍

‍

‍

‍

‍

‍

‍

‍

‍

‍

‍

‍

‍
1 Solution

MVP Esteemed Contributor
Mark as New

Bookmark

Subscribe

Mute

Email to a Friend
Parker,
OK, this is what you are after then (full working sample, no flicker):
<

!

DOCTYPE html

>




<

html

>





<

head

>


  

<

meta charset

=

"utf-8"

>


  

<

meta name

=

"viewport"

 content

=

"initial-scale=1,maximum-scale=1,user-scalable=no"

>


  

<

meta name

=

"description"

 content

=

"[Highlight features with hover events - 4.11]"

>


  

<

!

--


  ArcGIS API 

for

 JavaScript

,

 https

:

/

/

js

.

arcgis

.

com
  For more information about the view

-

hittest sample

,

 read the original sample description at developers

.

arcgis

.

com

.


  https

:

/

/

developers

.

arcgis

.

com

/

javascript

/

latest

/

view

-

hittest

/

index

.

html
  

--

>


  

<

title

>

Highlight features 

with

 hover events 

-

 

4.11

<

/

title

>



  

<

style

>


    html

,


    body

,


    #viewDiv 

{


      padding

:

 

0

;


      margin

:

 

0

;


      height

:

 

100

%

;


      width

:

 

100

%

;


    

}


  

<

/

style

>



  

<

link rel

=

"stylesheet"

 href

=

"https://js.arcgis.com/4.11/esri/css/main.css"

>


  

<

link rel

=

"stylesheet"

 href

=

"https://js.arcgis.com/4.11/dijit/themes/claro/claro.css"

>


  

<

script src

=

"https://js.arcgis.com/4.11/"

>

<

/

script

>



  

<

script

>


    

var

 dialog

,

 dRenderer

;


    

require

(

[


      

"esri/core/watchUtils"

,


      

"esri/Map"

,


      

"esri/views/MapView"

,


      

"esri/layers/FeatureLayer"

,


      

"esri/renderers/UniqueValueRenderer"

,


      

"esri/symbols/SimpleLineSymbol"

,


      

"dojo/dom"

,


      

"dojo/dom-style"

,


      

"dijit/popup"

,


      

"dojo/domReady!"


    

]

,

 

function

 

(


      watchUtils

,


      Map

,


      MapView

,


      FeatureLayer

,


      UniqueValueRenderer

,


      SimpleLineSymbol

,


      dom

,


      domStyle

,


      dijitPopup
    

)

 

{



      

var

 layer 

=

 

new

 

FeatureLayer

(

{


        url

:

 

"https://services.arcgis.com/8Pc9XBTAsYuxx9Ny/arcgis/rest/services/BuildingFootprint2D_gdb/FeatureServer/0"

,


        outFields

:

 

[

"*"

]


      

}

)

;



      

var

 map 

=

 

new

 

Map

(

{


        basemap

:

 

"dark-gray"

,


        layers

:

 

[

layer

]


      

}

)

;



      

var

 view 

=

 

new

 

MapView

(

{


        container

:

 

"viewDiv"

,


        map

:

 map

,


        center

:

 

[

-

80.135073

,

 

25.774479

]

,


        zoom

:

 

16


      

}

)

;



      

function

 

changeCursor

(

response

)

 

{


        

if

 

(

response

.

results

.

length 

>

 

0

)

 

{


          document

.

getElementById

(

"viewDiv"

)

.

style

.

cursor 

=

 

"pointer"

;


        

}

 

else

 

{


          document

.

getElementById

(

"viewDiv"

)

.

style

.

cursor 

=

 

"default"

;


        

}


      

}



      

function

 

getGraphics

(

response

)

 

{


        view

.

graphics

.

removeAll

(

)

;


        

if

 

(

response

.

results

.

length 

>

 

0

)

 

{


          

var

 graphic 

=

 response

.

results

[

0

]

.

graphic

;


          graphic

.

symbol 

=

 

{


            type

:

 

"simple-fill"

,


            style

:

 

"none"

,


            outline

:

 

{

 

// autocasts as new SimpleLineSymbol()


              color

:

 

"orange"

,


              width

:

 

1


            

}


          

}


          view

.

graphics

.

add

(

graphic

)

;


        

}


      

}



      view

.

when

(

function

 

(

)

 

{


        view

.

whenLayerView

(

layer

)

.

then

(

function

 

(

lview

)

 

{


          watchUtils

.

whenFalseOnce

(

lview

,

 

"updating"

,

 

function

 

(

)

 

{


            

// Set up a click event handler and retrieve the screen x, y coordinates


            view

.

on

(

"pointer-move"

,

 

function

 

(

evt

)

 

{


              

var

 screenPoint 

=

 

{


                x

:

 evt

.

x

,


                y

:

 evt

.

y
              

}

;



              

// the hitTest() checks to see if any graphics in the view


              

// intersect the given screen x, y coordinates


              view

.

hitTest

(

screenPoint

)


                

.

then

(

function

 

(

response

)

 

{


                  

changeCursor

(

response

)

;


                  

getGraphics

(

response

)

;


                

}

)

;


            

}

)

;


          

}

)

;


        

}

)

;


      

}

)

;


    

}

)

;


  

<

/

script

>




<

/

head

>





<

body

>


  

<

div id

=

"viewDiv"

>

<

/

div

>




<

/

body

>





<

/

html

>

‍

‍

‍

‍

‍

‍

‍

‍

‍

‍

‍

‍

‍

‍

‍

‍

‍

‍

‍

‍

‍

‍

‍

‍

‍

‍

‍

‍

‍

‍

‍

‍

‍

‍

‍

‍

‍

‍

‍

‍

‍

‍

‍

‍

‍

‍

‍

‍

‍

‍

‍

‍

‍

‍

‍

‍

‍

‍

‍

‍

‍

‍

‍

‍

‍

‍

‍

‍

‍

‍

‍

‍

‍

‍

‍

‍

‍

‍

‍

‍

‍

‍

‍

‍

‍

‍

‍

‍

‍

‍

‍

‍

‍

‍

‍

‍

‍

‍

‍

‍

‍

‍

‍

‍

‍

‍

‍

‍

‍

‍

‍

‍

‍

‍

‍

‍

‍

‍

‍

‍

‍

‍

‍

‍

‍
6 Replies