New Contributor III
Mark as New

Bookmark

Subscribe

Mute

Email to a Friend
I recognize this is a question that has been asked before (I have included some links and strings below that are related), but I have not found a solution, and I am likely making a mistake that is now opaque to me, so I am hoping for assistance here.
The solutions I have found seem to use Arcade, VB, and/or the GUI Field Calculator (the Field Calculator works, but I would like to automate the process in a script).
What I I would like to do is create a new field "inspectionyear", and populate it with an integer for the year, extracted from another date field "inspection_date".
Creating the new field is straight forward.
# Import modules


import 

arcpy, datetime # Provides access to arcpy tools


from 

arcpy 

import 

time


from 

datetime 

import 

*

# Add a new field to contain the year integer
arcpy.env.workspace = "C/DataFiles/DataSource.dbf"
arcpy.DeleteField_management(

"DataSource.dbf"

,

"inspectionyear"

) # If a field with the name "yearvalue" already exists, delete it
arcpy.AddField_management(

"DataSource.dbf"

,

"yearfield"

,

"INTEGER"

) 

# Create the field that will hold the year integers.
However, I have not successfully extracted the year values and added them to the new field.
I have tried using the GUI Field Calculator as shown: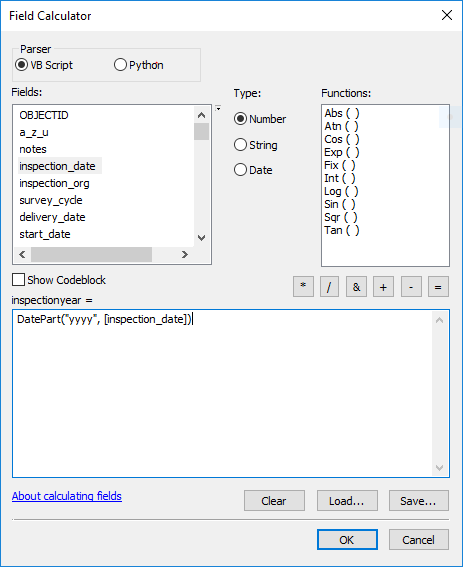 The process runs and closes successfully, with no errors, however, the inspectionyear field remains populated with <NULL>
I have also tried using the VB function in arcpy
arcpy.CalculateField_management(inputtable,

"inspectionyear"

,DatePart(

"yyyy"

,[fulldate]),

"VB"

)
which produces:
NameError: name 'DatePart' is not defined
and I have also tried:
datevalues = datetime.datetime.strftime(!inspection_date!,

"%-m/%-d/%Y"

)

To simply retrieve the year, but end up with a syntax error.
Can someone recommend a way to retrieve the year value, or point me in the direction of a guide? I have already explored quite a few links, including but not limited to the following.
Matching question posed by other user, but not answered
Field Calculator GUI method that ran, but did not populate the field
Info on generating datetime objects
Thank you,
Robert
1 Solution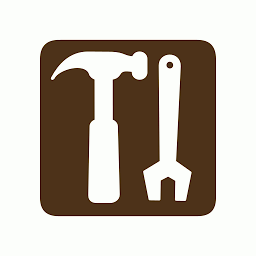 by
JoshuaBixby

MVP Esteemed Contributor
Mark as New

Bookmark

Subscribe

Mute

Email to a Friend
Using Python, try the following in your expression:
!inspection_date!

.

date

(

)

.

year

‍
I can't remember the exact version, possibly 10.5.x, Esri switched from having Esri date fields returned as Python strings to Python datetime.
10 Replies