Occasional Contributor II
Mark as New

Bookmark

Subscribe

Mute

Email to a Friend
I have a GP model that performs a trace and then assigns a long integer stored in the HydroID variable to a field in the edge layer. Calculate Field has the Updated Trace Network as a precondition, so it waits until the trace is finished and there is a selection. This works fine when I run the model. The model is shown below, and is named "_Single Junction To Edges".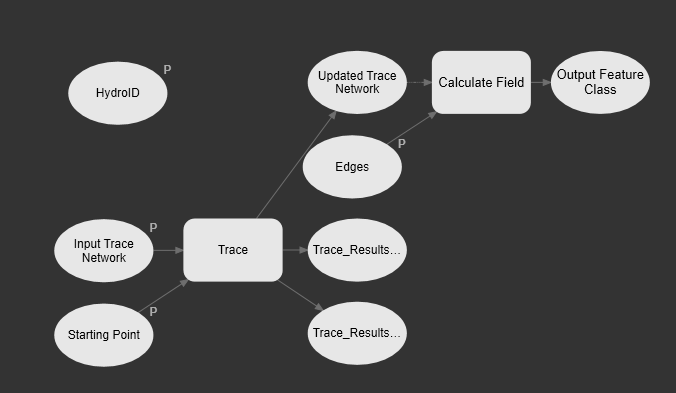 The problem arises when I encapsulate this model in another model with an iterator. I want to iterate through a selected set of junctions, and for each one, perform the trace and calculate the field. However, calculate field appears to be running on the entire edge layer rather than the selection. As the model runs, I can see the selections being made in the map, but the tool ignores them. The model with the iterator, which includes "_Single Junction To Edges" as one of the tools, is shown below.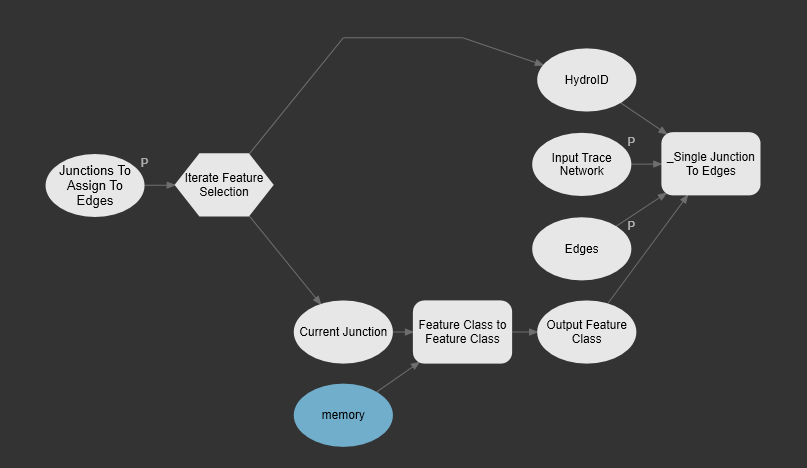 What do I need to do to get the iterator version to work like the standalone version with respect to using feature selections when it comes time to calculate the field?
I do acknowledge that outputting a group layer with the selection from the Trace tool in Pro 2.7, as discussed in this thread on working with trace results, may be the solution. But it seems like the single model was working correctly, so I wonder if I'm just missing something that will make it work in the iterator.
I'm on Pro 2.6.
1 Solution

Occasional Contributor II
Mark as New

Bookmark

Subscribe

Mute

Email to a Friend
I figured out how to prevent the downstream edge from being returned in the upstream trace. My mistake was simply copying my selected junction to a separate flag feature class. To make this work, I also have to add and populate a couple of fields that you'll notice in the TN_Temp_Starting_Points feature class in your default geodatabase that stores the flags you create interactively (via Data tab on ribbon), namely, SOURCEID and FEATUREGLOBALID. The SOURCEID refers to the identifier given to the junction layer in the trace network. The FEATUREGLOBALID is the GLOBALID of the junction feature where you want the starting point placed. I wish this information had been in a white paper that I had access to.
Here's code that demonstrates how to trace upstream given a junction layer.
import arcpy


def get_source_id(network, network_layer):
    d = arcpy.Describe(network_layer)
    fc_name = d.featureClass.name
    
    d = arcpy.Describe(network)
    for s in d.sources:
        if s.name == fc_name:
            return s.sourceID

    arcpy.AddError(
        'Could not determine network source ID for ' + network_layer.name)
    raise arcpy.ExecuteError


def point_to_flag(shape_xy, spatial_ref, source_id, global_id):
    flag_fc = arcpy.CreateFeatureclass_management(
        out_path='memory',
        out_name='flag',
        geometry_type='POINT',
        has_m='ENABLED',
        has_z='ENABLED',
        spatial_reference=spatial_ref)[0]
    flag_fc = arcpy.management.AddField(flag_fc, 'SOURCEID', 'LONG')[0]
    flag_fc = arcpy.management.AddField(flag_fc, 'FEATUREGLOBALID', 'GUID')[0]
    fields = ['SHAPE@XY', 'SOURCEID', 'FEATUREGLOBALID']
    with arcpy.da.InsertCursor(flag_fc, fields) as cursor:
        cursor.insertRow((shape_xy, source_id, global_id))
    return flag_fc


arcpy.env.overwriteOutput = True

network = arcpy.GetParameter(0)
junction_layer = arcpy.GetParameter(1)

spatial_ref = arcpy.Describe(junction_layer).spatialReference
source_id = get_source_id(network, junction_layer)

with arcpy.da.SearchCursor(junction_layer, ['SHAPE@XY', 'GLOBALID']) as cursor:
    for i, row in enumerate(cursor):        
        flag = point_to_flag(row[0], spatial_ref, source_id, row[1])

        Updated_Trace_Network = arcpy.tn.Trace(
            in_trace_network=network,
            trace_type='UPSTREAM',
            starting_points=flag)[0]

arcpy.SetParameter(2, junction_layer)
So, until Pro 2.7 is released in which the trace tools return selection layers, the keys to iterating traces are:
Create a point feature class for your starting point(s), and populate SOURCEID and FEATUREGLOBALID attributes in that feature class.
Return aggregated geometry, and use that geometry to select features from your network layer(s).
If you're updating a network layer's attributes while iterating, when you call arcpy.tn.Trace remember to set validate_consistency='DO_NOT_VALIDATE_CONSISTENCY' so the tool executes even as you update features.
Run arcpy.ValidateNetworkTopology_tn when you need to validate the network after updating it.
I've implemented this via Python. It seems like it should also work via ModelBuilder iteration, but ModelBuilder iteration confuses me, so I haven't verified it works there. My id_to_edges.py script, and the utils.py script it relies on, are attached in case folks find it helpful.
10 Replies