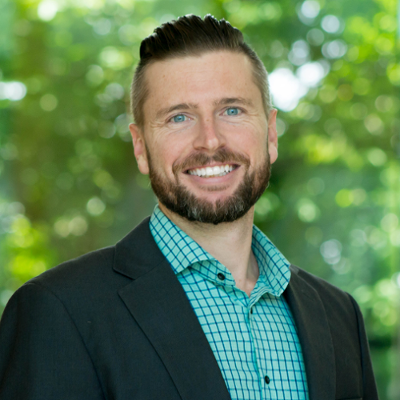 Mark as New

Mark as Read

Bookmark

Subscribe
Let me start by stating that I'm a solutions engineer for Esri, a geographic information systems (GIS) software vendor. In our world, physical geography and location matter. Esri has offered physical network inventory (PNI) solutions to the communications industry for many years. Which makes sense, because GIS is all about managing the geographic location of assets and spatially analyzing location information, so it's the perfect technology for PNI. But as communication networks evolve, what does that mean for GIS? As I began an existential crisis, I asked myself:
What happens to the PNI in a world where software defined networking (SDN) and network function virtualization (NFV) takes over?
Are maps and location intelligence less important since network intelligence is less dependent on the physical hardware?
Does the physical network and location of switches or routers even matter anymore?
How will PNI solutions support NextGen network management in virtualized environments?
What role do location and GIS play in SDN?
Since I think spatially for a living, I figured I better get to work understanding the virtual world.
First off, what does SDN and NFV really mean? Well, it's the evolution of networking where network functions like firewalls and web adapters (which have traditionally been hardcoded into hardware) get abstracted to a virtualized layer, called NFV services. These NFV services are controlled by one master traffic cop or controller, versus relying on the individual hardware itself.
This allows you to dynamically add and remove NFV services and optimize network traffic without the restrictions of how physical switches and routers have been deployed into the network. APIs allow all these interactions and optimizations to take place between the data or hardware tier, NFV services tier, the controller, and the network applications on top.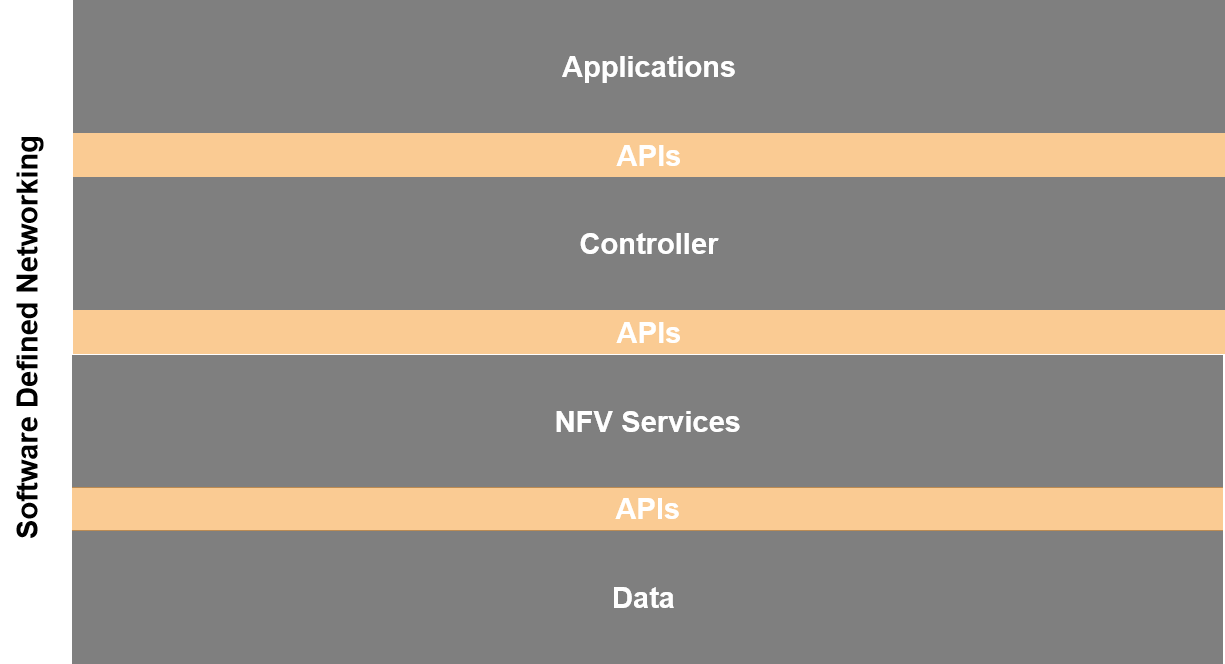 The value that SDN brings is an open architecture that offers
less hardware vendor lock-in
enables on-demand new products and services that are software configured instead of requiring hardware replacement
network traffic can be optimized automatically during peak demand

So again, in an SDN world where network intelligence is less hardware dependent, do traditional PNI solutions, which provide information on the hardware and its networking characteristics, offer any value to NextGen network management where networking is all virtualized? My answer would be yes, the PNI still matters, but not in its traditional use. The PNI can no longer be just a database in which you store as-builts. It needs to be integrated directly into NextGen network management systems to support new business processes and network analytics. Here are few examples of how the PNI can support NextGen network management.
Service Qualification
On-demand network services means on the fly service qualification is required. Where is the customer in the network and what services are available? The physical and logical network need to work closely together to answer that question. And from my experience, PNI and LNI systems and databases have historically been silo'd from each other, silo'd from other OSS/BSS, and even silo'd between different network technologies. One system to manage fiber, another to manage wireless, and another to manage coax and copper. To qualify services, independent of the physical network delivering the services, PNI systems need to support multiple network technologies and easily integrate with the LNI to help answer the question of where a customer is located, and what services are available at their location. Relying on a desktop engineer to respond to a service qualification request in a matter of days or even hours will not cut it, the PNI and LNI working together will need to answer that question in near real-time.
From Design to As-Built
With 5G comes more small cell deployments and fiber densification. This means far more network design and buildout projects are occurring and even more as-builts are piling up. In order to support the real-time service qualification above, the PNI needs to seamlessly integrate with engineering tools and the whole design process. That way, once new physical network is built and operational, the as-builts feed right into the PNI and become a part of the service qualification process. Only with an up to date PNI and LNI can you truly offer on-demand services that leverage near real-time service qualification.
Network Optimization
Network analytics is the secret sauce to SDN and NextGen network management. An SDN controller can orchestrate how traffic moves across the network and can dynamically allocate more or less bandwidth based on demand. Network analytics and AI/ML tools will allow for real-time analysis of network capacity and enable proactive network optimization. Yup, forget PNM, PNO is the new acronym on the block. But in order to optimize network traffic, you'll need to understand where demand is, what access points customers are connecting to, and any physical network restrictions. These are all questions a GIS based PNI can answer. For example, to move virtual reality (VR) services closer to the edge and reduce latency concerns, you need to know where the edge is, and what hardware can store local video caches. If a natural disaster is going to affect a portion of the network, and you need to route network traffic around that area, you to know where that storm will impact the physical network. Again, the PNI can no longer just be a standalone database, and needs to be built on a highly scalable, services based, cloud native platform that allows for network analytics to be run on the physical network.
So there you have it, my thoughts on the roles the PNI will play in NextGen network management. It won't be the PNI solutions of today, but an evolved, much more sophisticated GIS-based platform that integrates right into NextGen network management systems that leverage SDN. A platform that supports all network technologies, tightly couples PNI and LNI, provides network analytics, and is open. A platform like ArcGIS, with the new ArcGIS Utility Network Management framework.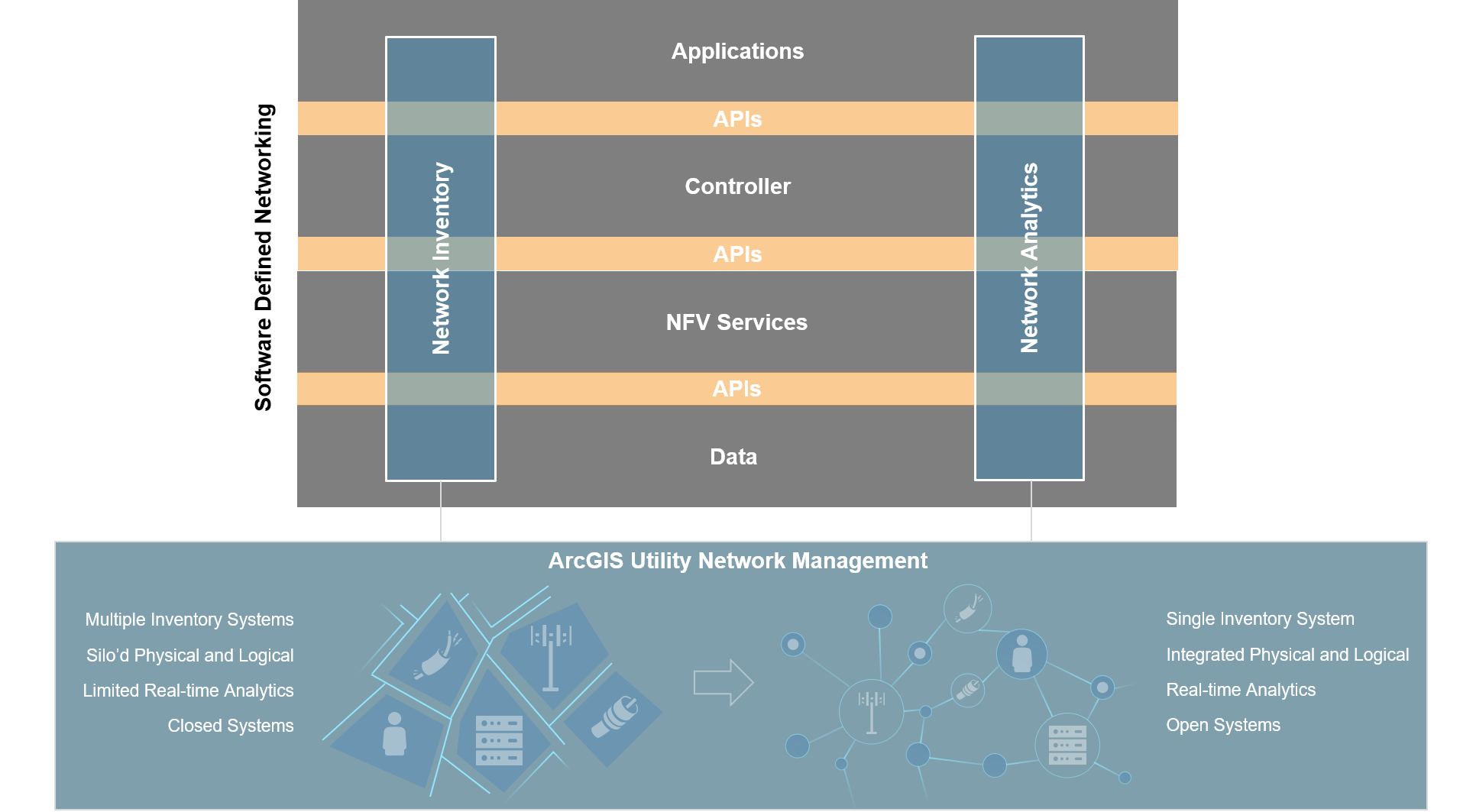 To learn more about ArcGIS Utility Network Management, check out this blog.
And be sure to check out the up coming tech sessions at Esri's Virtual User Conference.
Planning & Engineering Communication Networks with GIS
Network Operations & Maintenance of Communication Networks with GIS
Feel free to comment and let us know your thoughts on what role the PNI will play in SDN.
Thanks,
- Esri Telecom Team
telug‌
2 Comments
You must be a registered user to add a comment. If you've already registered, sign in. Otherwise, register and sign in.