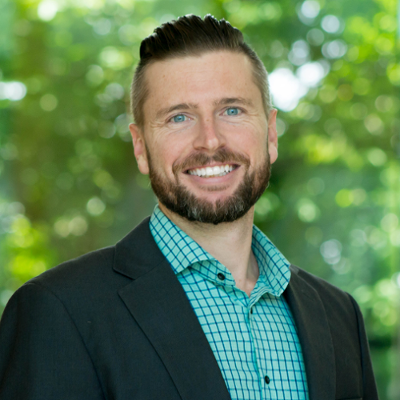 Mark as New

Mark as Read

Bookmark

Subscribe

Email to a Friend
There are plenty of rumors, miscommunication, and marketing around 5G and the size of the network investments, the value 5G will bring to end consumers, and the timelines for service roll out. Yet one thing that is clear, 5G is coming, and service providers are investing heavily in network transformation projects to densify wireless and fiber networks. GIS and maps are playing a larger roll in the strategic planning, remote engineering, and operational awareness of these network transformation projects, and because of this, Esri has been investing in, and evolving ArcGIS to better support the geospatial requirements within telecommunications. This blog, and subsequent ones to come, will dive into more details on the Esri business offerings and the recent enhancements to ArcGIS that can help with network transformation.
To support 5G and fiber deployments, Esri and its Partner's solutions can be categorized into 4 main business offerings; Strategic Planning Tools, Desktop & Walkout Surveys, Network Design & Asset Management, and Project Tracking & Monitoring.

Since understanding the location of existing network assets (towers, cables, cabinets, etc.) is a key component to planning, designing, and constructing new communications networks, the first business offering we'll explore is network design and asset management and the different tiers of GIS network management required to perform certain workflows, as well as the deployment options available today and in the future. We'll cover the remaining network transformation business offerings in follow-on blogs, and be sure to re-watch the Network Transformation Webinar from earlier this year to see all of the Esri solutions in action.
Network Design & Asset Management
Esri and its Partners have offered network design and asset management solutions to the telecom industry for many years, and based on the business requirements and GIS maturity of an organization, ArcGIS is typically deployed to support a range of simple network management workflows to advanced network management workflows. Some examples of these two types of workflows include:
Tier 1 - Simple Network Management
Basic Physical Network Inventory (PNI)
Field Inspections
Serviceability Checks
Network Planning
Tier 2 - Advanced Network Management
Detailed PNI Including Ducts, Fiber Strands, & Ports
Logical Network Inventory (LNI)
Port to Port & Ring Management: Network Traces, OTDR Reports, Physical Redundancy Planning
Service & Channel Management: Circuit Trace, Channel Reports, Availability
Detailed Engineering & Design - Web and Mobile
With the recent release of the ArcGIS Utility Network Management extension, Esri has re-engineered its network modeling framework (previous network modeling framework was the Geometric Network) which supports network design & asset management solutions, giving ArcGIS users enhanced simple network management capabilities, while offering new advanced network management capabilities at a later release. This framework allows for better network modeling, enhanced visualization / embedded analytics, and easier network sharing. Along with the release of this ArcGIS server extension, Esri's Solutions Team is offering downloadable Industry Configurations (asset package data models + symbology + maps) for different industry domains which will allow users, developers, and Esri Partners to start modeling networks in the utility network and extending either simple or advanced solutions off it.
Over the coming months, as Esri further enhances the utility network and develops Industry Configurations for telecom to further support telecom networks (fiber, HFC/COAX, copper, & wireless/microwave) with advanced network management capabilities, we will be releasing a series of blogs apart of the Geospatially Enabling Telecom blog series, with documentation and best practices for how to model different telecom networks and devices within the utility network. The intent of this outreach is to educate and allow our users and Esri Partners to offer feedback and guidance for the direction of the Industry Configurations and core capabilities of the utility network in support of managing telecom networks. Because every organization models, manages, and designs networks in a slightly different way, we hope that the increase in transparency and communication with our users and Esri Partners will allow Esri to crowd-source and release best of breed Industry Configurations that support simple and advanced network management. We are already engaged with many of our users and Esri Partners for validating our methodologies, and we hope to see that increase in the months to come.
Modeling Telecom in the Utility Network
The first utility network Industry Configuration Esri will release for telecom networks will be for fiber (PON/GPON) networks. While this is being developed by Esri, users and Esri Partners can design and deploy their own asset package data models on top of the utility network today to take advantage of simple network management. (To learn more about deploying your own asset package data model, please refer to this link.)
The utility network at the ArcGIS Enterprise 10.7.1 and ArcGIS Pro 2.4 release supports associations, containment, and connectivity of features with a spatial geometry. This means assets with a physical geometry (drawn on the map) can be managed and maintained within the utility network at its current release. At a future release of the utility network, a new set of asset classes called Object Classes (edge & junction) will be introduced into the utility network to support management of non-spatial features. This will allow for associations and connectivity of features maintained in the utility network without requiring a physical geometry (not-drawn on the map). The diagram below shows a high-level conceptual view of the main fiber assets aligned to the utility network tiers and asset classes of the utility network. This includes physical assets that could be managed today (simple network management) by building your own asset package data model on the utility network, and non-spatial assets that could be managed at a later release of the utility network (advanced network management), or managed today through Partner solutions and the older Geometric Network framework.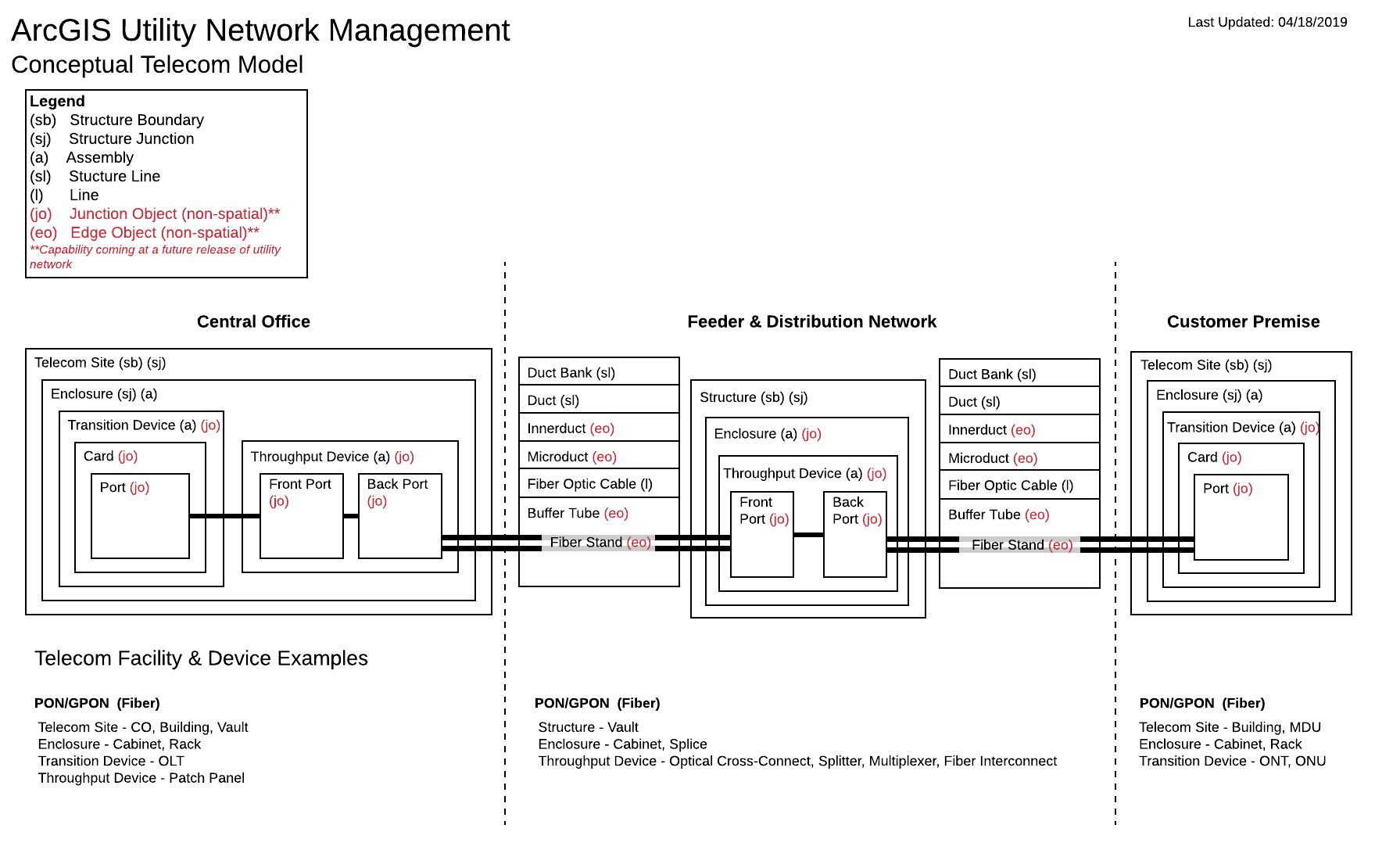 As you can see in the diagram above, the physical location and attributes for telecom sites, structures, equipment, span, and cables can be managed in the utility network today. This would provide simple network management and allows for containment on these features. To support many of the non-spatial assets in a fiber network, like fiber strand and ports, and to run connectivity traces, the Object Classes (non-spatial tables) will be essential additions to the utility network set of asset classes providing advanced network management.
Getting Started with Network Design & Asset Management
For those looking to leverage ArcGIS for network design & asset management here are the options today and in the future:

For simple network management today, ArcGIS with either a geodatabase, a geodatabase + Geometric Network, or ArcGIS + Utility Network Management extension is required to store asset locations and attribution about those assets. Simple network management will enable a base set of capabilities and workflows for your organization. For advanced network management today, ArcGIS with a geodatabase + Geometric Network is required, and typically an Esri Partner solution built on top. At a future release of the utility network, ArcGIS + Utility Network Management will bring advanced network management capabilities to the table for users and Partners to build solutions around. Also, keep in mind that Esri Partners and the user community are key to extending both simple and advanced network management capabilities offered by ArcGIS in order to build complete network management solutions for your organization.
Here is some additional guidance depending on if you are looking to deploy simple or advanced network management: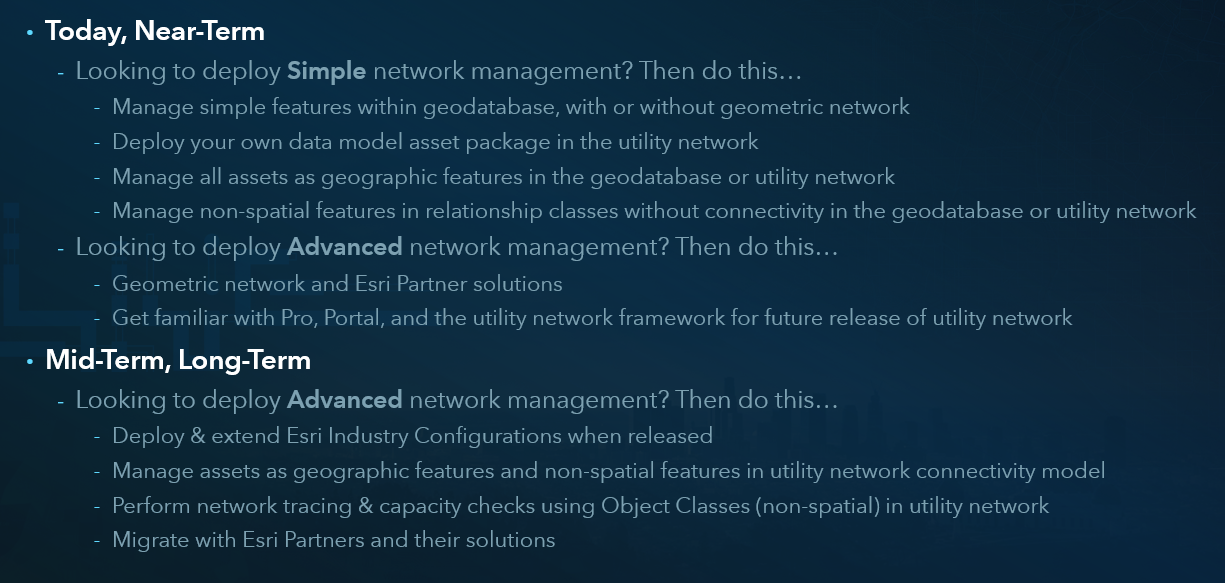 ****For access to early version previews of the Industry Configurations for telecom, including asset package data models, please refer to this discussion thread: https://community.esri.com/message/717465-telecom-industry-configurations-for-arcgis-utility-network...
For more information and resources on the ArcGIS Utility Network Management extension, please refer to: https://www.esri.com/en-us/arcgis/products/arcgis-utility-network-management/resources
Network Transformation: Strategic Planning, Remote Engineering, & Operational Awareness
In the next Geospatially Enabling Telecom blog we'll look at other workflows in the Network Transformation process that surround Network Design & Asset Management. We'll highlight big data tools, fiber routing and planning tools, and dashboards for monitoring projects.
Please feel free to comment below on anything covered in this blog, and to provide feedback or offer suggestions on functionality you would like to see in any of the Esri network transformation business offerings, and for more information on all of Esri's solutions for telecommunications visit Esri.com/telecom.
Thanks,
- Esri Telecom Team
telug‌
You must be a registered user to add a comment. If you've already registered, sign in. Otherwise, register and sign in.