Mark as New

Mark as Read

Bookmark

Subscribe

Email to a Friend
I was sitting in a presentation a few weeks ago on the R-ArcGIS bridge by Marjean Pobuda and I had a question: "Can I use the R-ArcGIS bridge in my Jupyter Notebook?" So I asked Mark Janikas (who was also attending the presentation) if this would be possible an he said, "Yes". So, after the presentation, I set out to get the R-ArcGIS bridge running in Jupyter.
Installing the ArcGIS-R Bridge
The first thing I did was install the R-ArcGIS bridge. I installed it using ArcGIS Pro by following the installation instructions. I am currently using R-3.4.2 and arcgisbinding '1.0.1.208'. I can verify this by going to the Geoprocessing tab in the Options section in ArcGIS Pro.
Cloning My arcgispro-py3 Environment
I did not want to break my arcgispro-py3 conda environment (the default ArcGIS Pro Python environment) so the first thing I did was clone the environment. I named the cloned environment arcgispro-r. I did this from the command line as follows:

Switching Environments
Next, I switched to the cloned environment by deactivating the arcgispro-py3 environment and activating the arcgispro-r environment. This can be done at the command line with two commands, deactivate and activate, as shown her: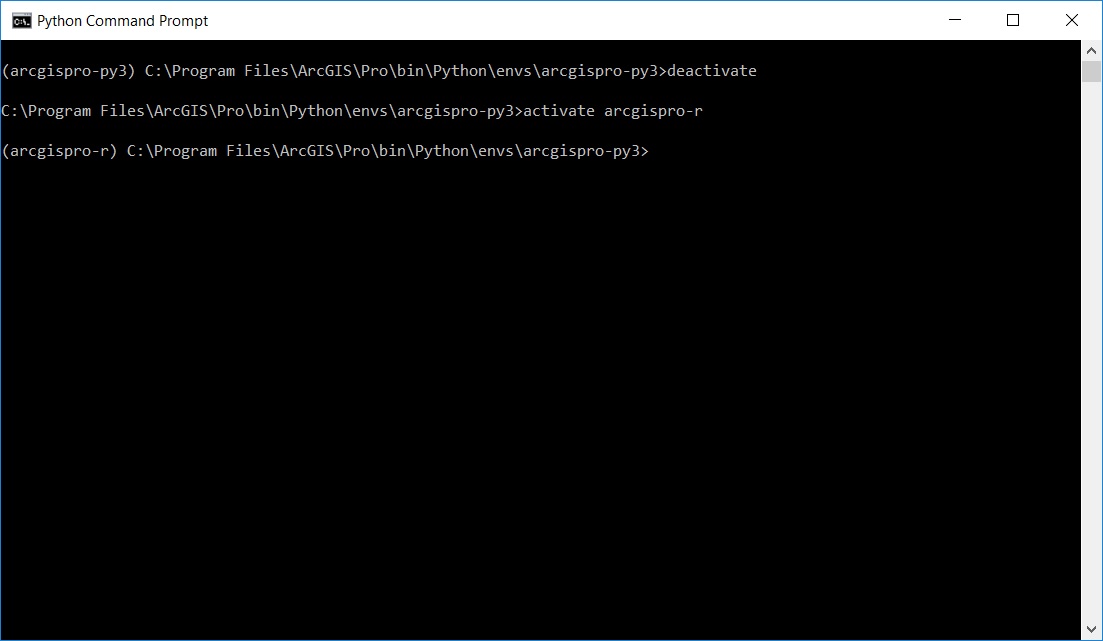 Installing R-Essentials
Then, I installed r-essentials, a bundle of over 80 of the most used R packages created by the Anaconda team. I did that from the command line while in my arcgispro-r environment as shown here: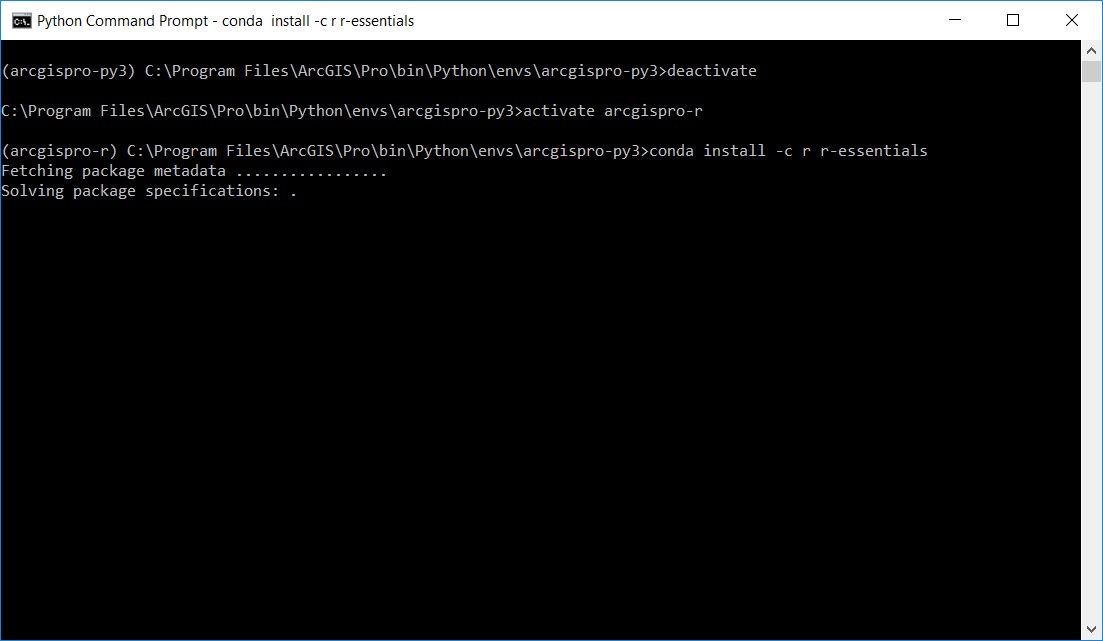 Running arcgisbinding in Jupyter
After I installed r-essentials, when I launched my Jupyter Notebook, I had the option to create a Python or an R notebook.
I created an R notebook. To test whether the ArcGIS-R bridge is installed and accessible to my notebook, I loaded the arcgisbinding package and checked the product version number and there it was, package version '1.0.1.208', the same one I see listed in ArcGIS Pro above!
But Does It Work?
Yes, I can use the arcgisbinding package to read spatial data into R! In order to test whether I could read in data, I used arc.open to read in a point feature class of seagrass data. I was also able to use arc.select to put that feature class into a dataframe.
I shared my sample notebook on GitHub at the repo arcgisbinding-in-jupyter. I am interested to know if there is anyone else out there who has tried this or is interested in using R, ArcGIS, and Jupyter. If you are, let me know!
You must be a registered user to add a comment. If you've already registered, sign in. Otherwise, register and sign in.