New Contributor III
Mark as New

Bookmark

Subscribe

Mute

Email to a Friend
NYSDOT has seen a number of very small overlaps generated by the concurrency API and the Calculate Route Concurrencies (CRC) tool. We have not been able to uncover an underlying cause in the ALRS network that explain these overlap anomalies.
A discrepancy between the measure field definition and the LRS Network Resolution and Tolerance Properties was recently pointed out to us. All of our ALRS network and event feature classes have measure fields defined as Double 38,8. However, our ALRS network measure precision is set to 7 as shown below.
I'm trying to figure out if this precision discrepancy between the field definition and the ALRS has the potential to cause the (apparently invalid) route concurrency results.
Using Roads and Highways 10.7.1. The Tolerance and Resolution properties of the LRSN_Milepoint network are shown below. The ALRS is maintained using the NAD83 UTM Zone 18 meters coordinate system.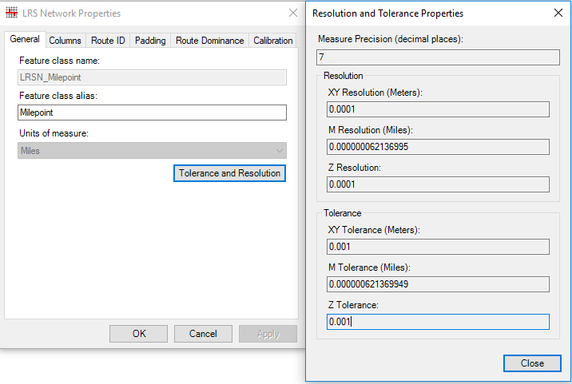 1 Solution

by
NathanEasley

Esri Contributor
Mark as New

Bookmark

Subscribe

Mute

Email to a Friend
Hi Kevin,
For any floating point number in a database (such as a double field type used for measures in Roads and Highways), the number of significant digits stored is going to often be 10 or more. All operations in Roads and Highways (including the route editing operations) utilize the M tolerance to do the calculations and the precision to determine how many decimals to display in tools such as Identify Routes.
There isn't any need to make the database changes you're discussing above as the software is designed to leverage the M tolerance to do calculations already. Even though 8 digits are stored, only 7 are used during calculations within Roads and Highways (the 7th digit is used to determine whether to round up or down for the 6th digit for display purposes).
-Nathan
ArcGIS Roads and Highways product team
9 Replies