by
DiegoLlamas

Esri Contributor
Mark as New

Bookmark

Subscribe

Mute
Hello, I am not good with python, I am new. I am trying to synchronize changes from a replica between databases and i want this to run automatically every day with a task scheduler. In esri help i found this sintaxis
Sintaxis
SynchronizeChanges_management (geodatabase_1, in_replica, geodatabase_2, in_direction, conflict_policy, conflict_definition, reconcile)

And I did this script:
 


message = "Sync replicas CRIMPRDB to cdprdb01...";print message
 # Process: Synchronize Changes (80)
 arcpy.SynchronizeChanges_management(crim-oradb-01-sde:oracle$crim-oradb-01/cdprdb, "MAPUSER.CD_PARCELAS", cdprdb01-sde:sqlserver:cdprdb01-cdprgis, "FROM_GEODATABASE1_TO_2", "IN_FAVOR_OF_GDB1", "BY_OBJECT", "DO_NOT_RECONCILE")
 message = "---Sync de replica CRIMPRDB to cdprdb01 successful";print message
 
 arcpy.AnalyzeDatasets_management(input_database="Database Connections/gisadmin@cdprdb01.sde", include_system="NO_SYSTEM", in_datasets="cdprgis.GISADMIN.Parcelario/cdprgis.GISADMIN.Parcelario;cdprgis.GISADMIN.Parcelario_Web/cdprgis.GISADMIN.ParcelasContactos;cdprgis.GISADMIN.Parcelario_Web/cdprgis.GISADMIN.ParcelasContactos04242019_1", analyze_base="ANALYZE_BASE", analyze_delta="NO_ANALYZE_DELTA", analyze_archive="NO_ANALYZE_ARCHIVE")
 arcpy.Compress_management(in_workspace="Database Connections/sde@cdprdb01.sde")
 arcpy.RebuildIndexes_management(input_database="Database Connections/gisadmin@cdprdb01.sde", include_system="NO_SYSTEM", in_datasets="cdprgis.GISADMIN.Parcelario/cdprgis.GISADMIN.Parcelario;cdprgis.GISADMIN.Parcelario_Web/cdprgis.GISADMIN.ParcelasContactos;cdprgis.GISADMIN.Parcelario_Web/cdprgis.GISADMIN.ParcelasContactos04242019_1", delta_only="ALL")
 print"Indices Reconstruidos para Parcelario"
message = "--Replica Sync Completed Succesfully";print message
My doubt is with geodatabase 1 and 2 part, where do I get the connections? how do I write those?
I found this in my syn changes wizard and I wrote those, Is that correct?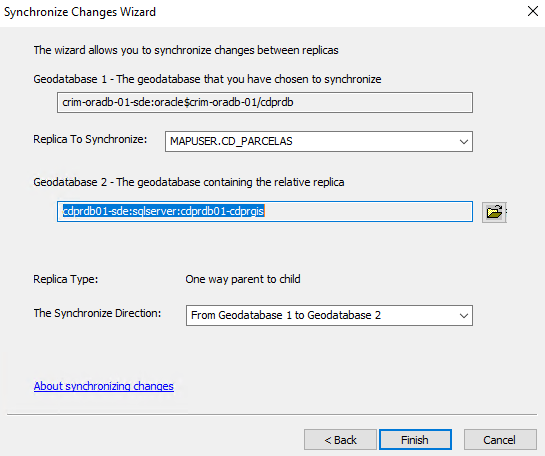 Thanks for your help!
Diego Llamas
2 Replies

Esteemed Contributor
Mark as New

Bookmark

Subscribe

Mute
Have you run the python script? Did you get any error messages?

Esri Contributor
Mark as New

Bookmark

Subscribe

Mute