Occasional Contributor
Mark as New

Bookmark

Subscribe

Mute
Edit (by Xander Bakker): the original question was placed at this thread: Extracting an integer from a string field but I decided to branch it to a new thread.
I have a similar situation...
For Example:
s ="POWERS 1C-23HZ"
and some are like s2 = RATTLER4C-34HZ
I would like to tell python to find the first number in each field and then split the field at the same location at the first number. so....
Field 1 = RATTLER
Field 2 = 4C-34HZ
derived from the string above: s2
I would like to use the field calculator to do this.
I know you can use this to split on the space:
!field! = s.split(' ')[0]
I did this in the field calculator expression box and it works but only on the strings with a space where I need to break it.
Any help is much appreciated!
Dan A.
Message was edited by: Xander Bakker. Post branched to new Thread
1 Solution

by
XanderBakker

Esri Esteemed Contributor
Mark as New

Bookmark

Subscribe

Mute
A small addition to the code contributed by Darren. In the example "POWERS 1C-23HZ", your first result will include "POWERS " with the space included. If any space at the beginning or end should be stripped, you can use something like this
a = "POWERS 1C-23HZ"
for i in range(len(a)):
  if a.isdigit():
      b = [a.strip() for a in [a[:i],a]
      break
print b

#  ['POWERS ', '1C-23HZ']
If you want to use this in the field calculator and fill two fields with it, you must remember that a Field Calculation can only write to a single field per run. Does than mean that you need two functions to implement what you want? No, not really. You can work with an additional parameter (index) that will extract the value you want.
The code block could be something like:
def SplitAtDigit(a, index):
    try:
        found = False
        for i in range(len(a)):
           if a.isdigit():
               b = [a.strip() for a in [a[:i], a]
               found = True
               break
        if found:
            return b[index]
        else:
            if index==0:
                return a
            else:
                return ''
    except:
        return ''
and you can use these settings: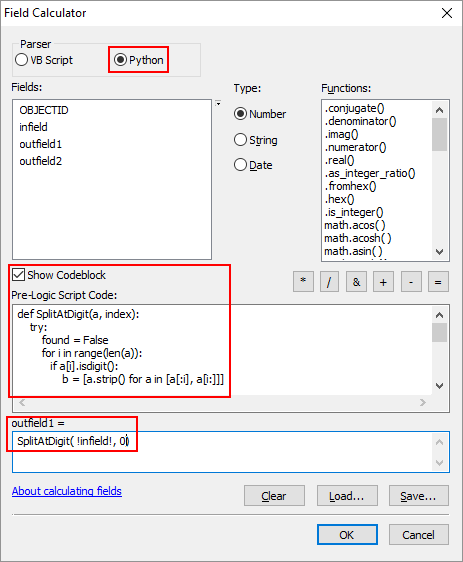 for the first field and:
SplitAtDigit( !infield!, 1)
...for the second field. This will result in: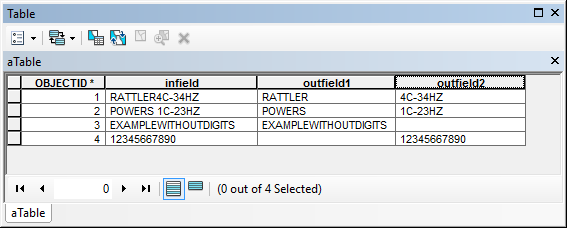 11 Replies