New Contributor III
Mark as New

Bookmark

Subscribe

Mute
Does anyone know if there is a Select by Location type tool that chooses polygons of Largest Overlap? I know there's a script tool that performs this as a Spatial Join at
https://hub.arcgis.com/datasets/e9cccd343bf84916bda1910c31e5eab2
but I want use the same processes as a selection, not a spatial join. Does this exist, or would someone be able to use the code and modify it to perform a selection of largest overlap?
1 Solution

New Contributor III
Mark as New

Bookmark

Subscribe

Mute
Hi Dan,
Great news, Esri tech support found a solution to this problem!
First, run the Intersect tool between parcels and zoning, in order to divide the zoning polygons that extend beyond a given parcel's boundaries. The Shape_Area field will automatically be recalculated for the feature class output by the Intersect tool, but you can confirm the area is correct by creating a new field and using the Calculate Geometry tool.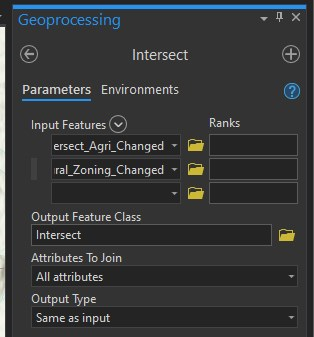 Next, set the Summarize Within tool to summarize the Shape_Area field of the output of the Intersect using the parameters in the image below: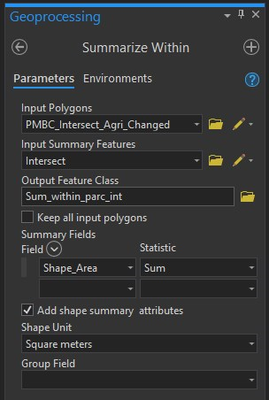 Finally, export features from the output (right-click on output of Summarize Within tool in Contents > Data >Export Features) using the expression below (I arbitrarily selected 0.01 for the ratio of summarized zone area to parcel area to account for multipart parcels but this can be modified as desired. The original test used 0.5 in the screen shot, but a lot of parcels will get omitted with such a large cutoff.)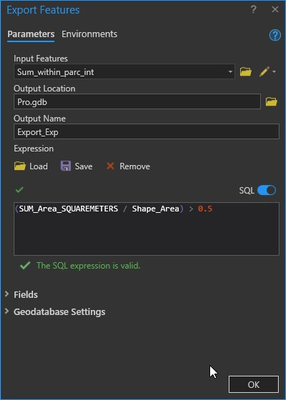 This creates an almost perfect match between parcel and zoning. This procedure can be used in many other situations where you are looking for a match of area of largest overlap.
8 Replies