Occasional Contributor II
Mark as New

Bookmark

Subscribe

Mute
I haven't written a Python script in years...so this is my first one in a LONG time. With that in mind the issue could be more than one issue...I'm not sure.
I have a Python script almost working...just one more hurdle to complete and I'm ready to move on. I'm running this script in ArcGIS Pro 2.4.2. There is a sample feature class with 100 points, plus I created a list to extract values that will be passed to a "calc" function later. The "list" I created was made using the Summary function in ArcGIS Pro, and I employ a cursor function as per below. It too works really well and does what it's supposed to do.
However, this issue has me a little stumped, but I'm sure it's relatively easy to resolve...it could be a few different things, or it could be that Python isn't even capable to doing it they way I'm doing it.
The script does everything I want it to do except select the specific records in an attribute table. I also have a CLEAR_SELECTION process that also runs immediately after this SelectLayerByAttribute string, but I don't know if it's doing anything either. If I do this select manually it works without issue, but in a Python script it seems to have an issue. Rather than select the specific group of records based on a unique identifier (MMSI) this SelectLayerByAttribute process selects the entire table for each iteration of the loop. So when I calculate the field (in the next step) it just overwrites everything that was calculated in the previous iteration each time. This process should update all of the blank fields/records found in the attribute table...and it too also works well manually.
So can anyone see what the issue might be here? The code appears to be correct, so the does the syntax...what am I not seeing that will make this work properly?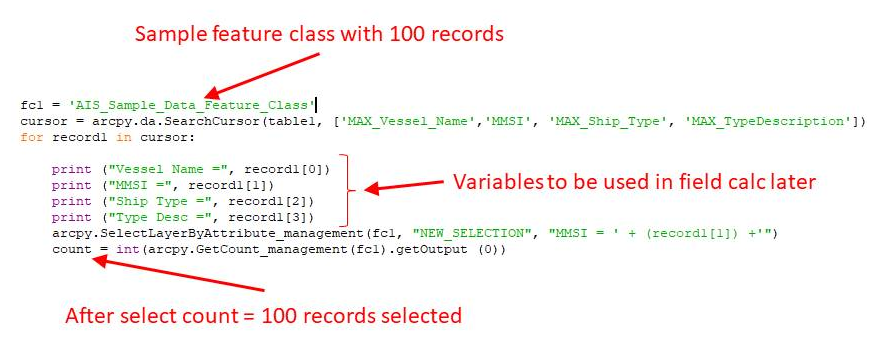 Thanks
1 Solution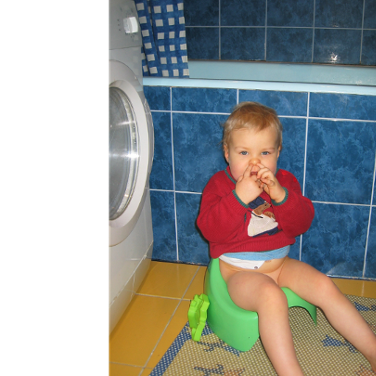 New Contributor III
Mark as New

Bookmark

Subscribe

Mute
You better post code snippet, not an image.
I see that you ignore whatever result you get from SelectLayerByAttribute_management
and later you do GetCount_Management on fc1 which is feature class string and it has not changed afyer your invoked SelectLayerByAttribute_management. Therefore you get count of all features in that feature class.
You should get both filtered layer and count (I guess a pair) as a result from SelectLayerByAttribute_management, so you don't need to call GetCount_Management at all, see Derived Output topic here:
Select Layer By Attribute—Data Management toolbox | ArcGIS Desktop
Here is my experiment with IDLE in ArcMap 10.5
>>

>

import

 arcpy


>>

>

 featureClass 

=

 r

'C:\DATA\Test-Attach\152287.gdb\Markanordningslinje'




>>

>

 arcpy

.

GetCount_management

(

featureClass

)




<

Result 

'11673'

>






# I need to do this step in ArcMap, but you probably don't need it in Pro:




>>

>

 arcpy

.

MakeFeatureLayer_management

(

featureClass

,

 

"lyr"

)




<

Result 

'lyr'

>






# Now in ArcMap I have to do 2 steps:




>>

>

 res 

=

 arcpy

.

SelectLayerByAttribute_management

(

"lyr"

,

 

'NEW_SELECTION'

,

 

"DTYPE='Stenmur'"

)




>>

>

 arcpy

.

GetCount_management

(

res

)




<

Result 

'3267'

>





#.. but I think in Pro you can do like this and get count directly:


out_layer

,

 count 

=

 arcpy

.

SelectLayerByAttribute_management

(

"lyr"

,

 

'NEW_SELECTION'

,

 

"DTYPE='Stenmur'"

)

‍

‍

‍

‍

‍

‍

‍

‍

‍

‍

‍

‍

‍

‍

‍

‍

‍

‍
8 Replies