Occasional Contributor II
Mark as New

Bookmark

Subscribe

Mute

Email to a Friend
Hi everyone! I have COVID-19 data in AGOL that the public has been viewing for quite some time now. And now Administration would like some of the data on an internal web map - so I was simply going to add the same data into a Web Map on Enterprise, but I am realizing it is not that easy.
Here is what I tried:
I opened catalog in Pro and and pulled in the feature layers into a map, then shared as a Web Map to Enterprise from there. It looks like using this method that the data is being referenced from AGOL and simply displayed on Enterprise, which I understand. When I attempt to make the Web Map public in Enterprise, it asks me for my AGOL login when I try to view it, which I am thinking is because it is referencing the data in AGOL. However, the data that is public in AGOL are the VIEW layers, not the hosted feature layers; and I have the hosted feature layers in the Enterprise Web Map, so I think that's why it's requesting a log in; because there is data that is owner only on the Web Map. Administration will not use a log in for their needs, so this needs to be as simple as possible. They are on the same network and have access to Enterprise without a login.
In a perfect world, I'd love to manipulate the data in AGOL and simply have it reflect over into Enterprise's layers as well, but I don't assume that's possible here.
My question is how can I best use this existing data from AGOL and display it in Enterprise without it prompting me for a login. I don't believe I can simply make the Hosted Feature Layers in AGOL public because then it will allow the public to edit this sensitive data, which is why a View layer was created.
1 Solution

by
jcarlson

MVP Frequent Contributor
Mark as New

Bookmark

Subscribe

Mute

Email to a Friend
You'll want to add the item to your Contents, not just to a map. When you add an item on the Content page using the From the Web dialog, it will detect if the URL you're adding is protected.
If it is, it prompts you for a username and password, and gives you the option of storing credentials for the service.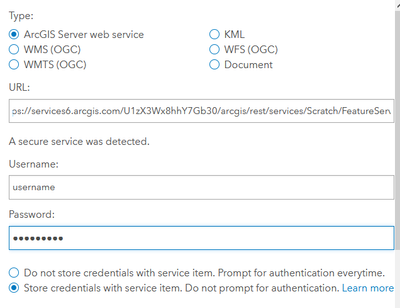 If you opt to store the credentials, the data can be used throughout your Portal as the item-level sharing settings allow, without needing to log in to AGOL.
It's a super useful option, but the documentation is well worth a read for a few of the performance-related caveats and such.
- Josh Carlson
Kendall County GIS
6 Replies