New Contributor II
Mark as New

Bookmark

Subscribe

Mute

Email to a Friend
Hi there, looking for some help with a network dataset I've built that integrates GTFS data. I have built the network, but when I solve routes using it, it never uses the transit options.
I built the network using the GTFS network analyst tools and guide (link) with a transit feed from transitfeeds.com. I used that guide's troubleshooter to try to figure out what is wrong, but I'm still in the dark.
I know my street network works because it always results in trips taken entirely on foot. I also know that the cost of a trip on foot is not incorrectly calculated so that it takes less time than using transit options, because I have calculated trips on foot that are correctly reported as taking several hours, and network analyst still won't use transit.
I also know the problem isn't because of some major error when the network is built, because building the network results in very few errors: just four transit stops have invalid geometry. Also, after building the network, I always run the "Get Network EIDs" tool.
I always run my analyses on a particular day or date, and I've tried running the analyses on many combinations of particular dates, days off the week, and times of day.
I believe that the network identifier tool shows that my streets, transit stops snapped to streets, connector lines, transit stops, and transit lines are all connected correctly. The first image here is network identify when I've selected a transit stop. The second is when I select one of the snapped-to-streets transit stops. Both show (Am I correct?) that they are connected to the adjacent networks: roads, transit lines, and the lines connecting the stops to the snapped-to-streets stops.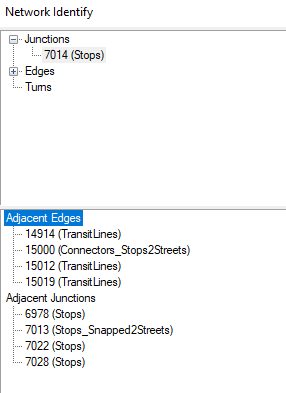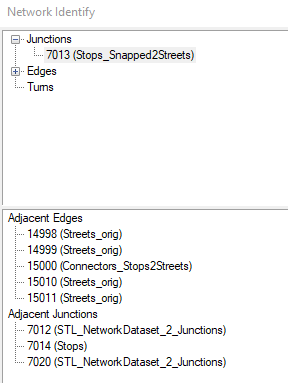 Here are my connectivity settings. I also tried changing "stops_snapped2streets" to "honor" and rebuilding the network, but it didn't solve the problem.

I am stumped. I really appreciate any leads you all might be able to give me.
Thanks
1 Solution

Esri Regular Contributor
Mark as New

Bookmark

Subscribe

Mute

Email to a Friend
This network dataset seems to be working properly to me. You did a good job setting it up.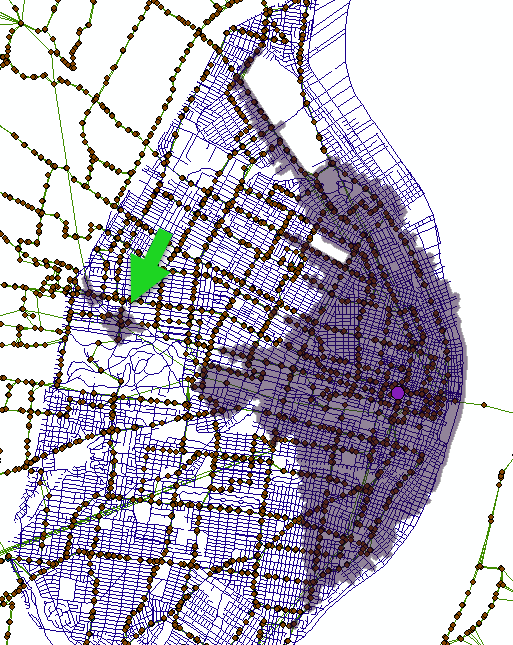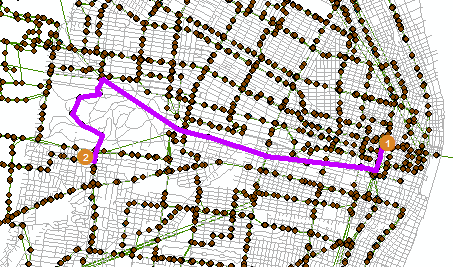 The screenshots here clearly show evidence of the transit lines being used. I picked Monday at 8am.
Make sure you're choosing the correct settings for your analysis layers.
4 Replies