Highlighted

New Contributor
Mark as New

Bookmark

Subscribe

Mute

Email to a Friend
Good afternoon!
I am a supervisor of a Fire Marshal's Office, and we are developing a pre-plan program for our Fire Department field personnel utilizing ArcGIS (Pre-Incident Plan). Our suppression (fire personnel) have requested that the data collected utilizing ArcGIS Collector could be exported into a form template, to include the building name, address, map view with icons, and various domain/field information laid out for each building, exported as a .pdf for each building.
The idea is that this could be done for the entirety of the information on a semiannual basis and uploaded into our dispatch/response program, or developed into paper binders for those not using laptops/MCTs. Our intent is that we can setup the form template once, and then run the report as needed that would generate .pdf's for each building.
Attached is the draft suggested layout...we are looking at a .pdf output if possible.
Any ideas or recommendations would be greatly appreciated!
Captain Josh Bunting-Fire Marshal's Office
Mia Dill, GIS Developer-Ocean City Fire Department
2 Replies
Highlighted

Occasional Contributor
Mark as New

Bookmark

Subscribe

Mute

Email to a Friend
I do not know if you were ever came across a solution to this question but there is a widget called Situational Awareness that lets you generate a report. Although I would like to customize it more for this same application (Pre-Incident Plans). There are some areas that I would like changed:
1) Select by Plan ID instead of point, line, polygon and proximity. Currently, I have to create a box around the structure. This is capture everything within the structure to be reported but this polygon stays on the the print out. This takes away from the map on the report.
2) Select and report the records without the analysis part (summary, proximity, etc.) . This adds a lot more unnecessary lines/records and in this case its really only duplicated the information.
Any help would be greatly appreciated.
Highlighted

New Contributor II
Mark as New

Bookmark

Subscribe

Mute

Email to a Friend
Hi Adam and Joshua;
Here are a couple ideas for you to consider.
1. Configure the Query widget in the Pre-Incident Plan Coordinator application to search on the Plan ID instead last inspected or other attribute. You can also use the Situation Awareness widget to "Set Location" on a plan using the (...) symbol in the lower right corner of the popup window instead of creating a polygon around the plan. Then create the report. Note: you will want to customize the popup and the layers in the widget to get attributes you want in the report.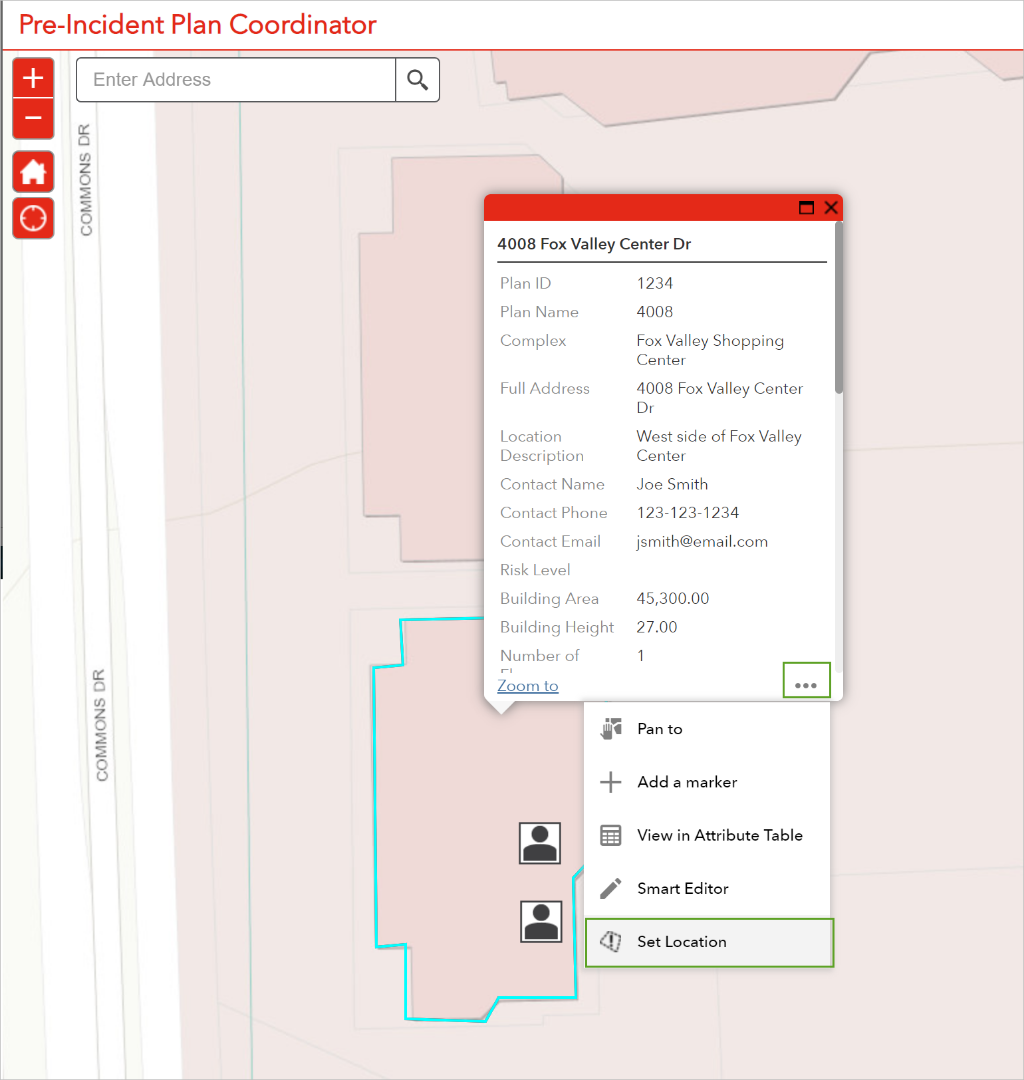 2. You can add your pre-incident plan layer from your feature service to the Fire Service Maps application. This application is designed to generate a Run Book in PDF which can include the pre-incident plans and related information on each page.
We will look into the capability of customizing the report within the Situation Awareness widget but this might not be the best tool for reporting. Please let me know if you have any other questions.
Walter Potts
Esri - Public Safety Solution Development