by
KelleyArroyo

Esri Contributor
Mark as New

Mark as Read

Bookmark

Subscribe

Email to a Friend
Esri Senior National Government Industry Strategy Specialist
Part 3 of a 7 part series exploring GIS and Artificial Intelligence
As part of a seven-part blog, we originally covered the introduction of automation, AI, and new technologies into the workplace. These new technologies are helping workers to free work time so that workers can focus on creativity, reducing mundane tasks, and solving complex problems in the workplace.
Studies like Will Robots Take My Job (Covered in Part 2 of this series) showcased many scenarios where geospatial industry workers are impacted. The main take away from this is that AI is here to stay and that workers will need to adapt and leverage the technology to become more competitive. Leveraging this new technology will ultimately lead to greater ROI and organizational mission success.
Focusing on Mission – Human and AI
The mission of national geospatial authorities is to support a rapidly changing civilian and defense stakeholder's decision-making capabilities.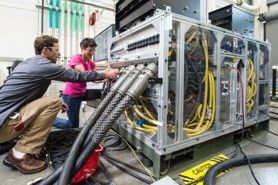 These customer needs include supporting larger volumes of data, working with less resources, more powerful analysis of higher resolution remote sensing sources, and production with quicker delivery times. To achieve quicker delivery, organizations are turning to GeoAI. Organizations are creating Human and Machine teams that works jointly with data to meet their business goals.
The Human and Machine Team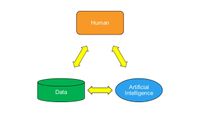 With the pairing humans and AI, organizations can create an efficient and dynamic data production environment where human workers are enabled with the strengths of AI. This means that the human and Machine pairing can complement each other's strengths. The result is a stronger team that solves problems and tasks quickly. Problems can be solved by leveraging the strengths of both the human and machine in the below areas: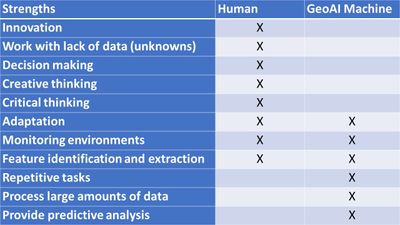 Data is the common component in any workflow that links the Human and machine team. Data is the catalyst in future workplace where humans are empowered by AI. This new modern workplace will be the future environment for interactions between the Human and Machine team.
Read Part 4 of 7: Teaming with the Machine – AI in the Workplace
Additional Blogs in the Series:
Part 1: Future Impacts by AI on Mapping and Modernization
Part 2: GIS, Artificial Intelligence, and Automation in the Workplace
You must be a registered user to add a comment. If you've already registered, sign in. Otherwise, register and sign in.