New Contributor
Mark as New

Bookmark

Subscribe

Mute

Email to a Friend
I am attempting to create Minimum Bounding Volumes from clipped point features that have Z values, but the Minimum Bounding Volume Tool will not accept any 'modified' point feature as input in Model Builder (ArcGIS Pro 2.5) until I run the tool and generate the clipped points first. Of course this defeats the purpose of the model, as I wanted to publish this as a geoprocessing service in a Web App.
I get this error: 00241: The specified pathname or file type is invalid for the required input. My points are derived from a Multipoint feature. I spoke with an ESRI expert about this at length and tried multiple avenues and they believe this is a bug, after observing my model's behavior. Again, Minimum Bounding Volume will accept PilePts as input after they are created, but not otherwise.
I can input the unmodified point features no problem, without clipping, as shown below. So I do not believe this is a data type issue. But I don't see where I would put a precondition in either. I am not using any additional parameters in the MBV Tool, so this should be simple. My pathnames are fine (the Output Name variable is there, just not visible in the image). I have tried this in a folder and a file geodatabase.
Has anyone experienced this same issue with this or another tool?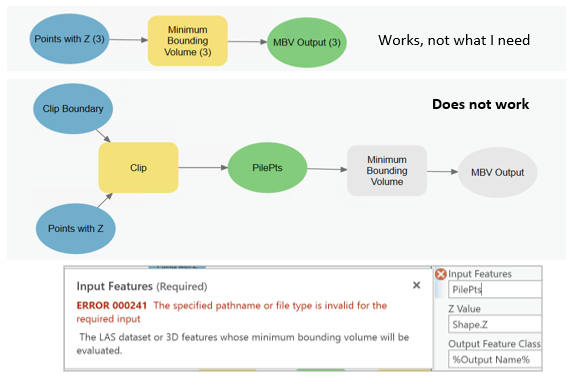 .
2 Replies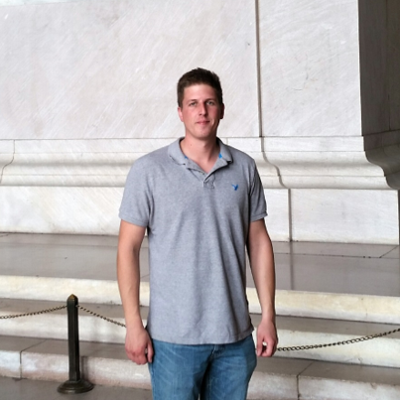 by
DavidPike

MVP Frequent Contributor
Mark as New

Bookmark

Subscribe

Mute

Email to a Friend
Can you cheat it by using an Environment Variable (Processing Extent) on Points_with_Z, and have it as a parameter?

New Contributor
Mark as New

Bookmark

Subscribe

Mute

Email to a Friend
Of course THANK YOU! I have been so focused on stringing other models together, I didn't even think of setting an extent. Such an obvious workaround. Now the trick is to see if this works with a Feature Set in a Geoprocessing Service...