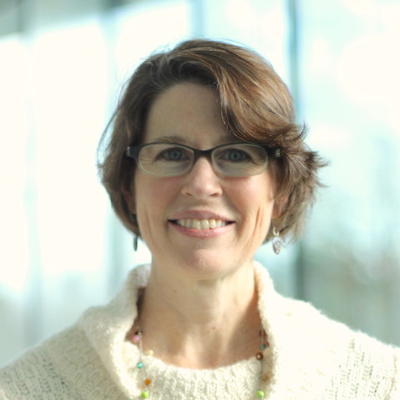 Mark as New

Mark as Read

Bookmark

Subscribe

Email to a Friend
For some time, ArcGIS Hub supports DCAT for catalog federation to other data aggregation portals, such as the US Data.gov. ArcGIS Hub now supports DCAT-AP, the de facto standard for European data catalogues, in support of the European PSI-2 / Open Data Directive.
What is DCAT and DCAT-AP?
Data Catalogue vocabulary, known as DCAT, is an international standard established by the W3C. It is an RDF vocabulary designed to facilitate interoperability between data catalogues published on the Web. It is a way to federate metadata from your content libraries into third party data portals.
The DCAT Application Profile for data portals in Europe (DCAT-AP) is currently the de facto standard metadata interchange format across European data catalogues.
DCAT-AP is a joint initiative of two Directorates-General of the European Commission, namely
 DG Connect and DG Informatics, and the Publications Office of the EU, and is supported by the European Commission's ISA2 programme.
How does it work?
ArcGIS Hub automatically translates the metadata of your public items (for example, INSPIRE Metadata v2) to generate a DCAT-AP feed for your curated catalogue. The DCAT-AP feed provided by ArcGIS Hub is an RDF machine-readable and compliant JSON-LD format.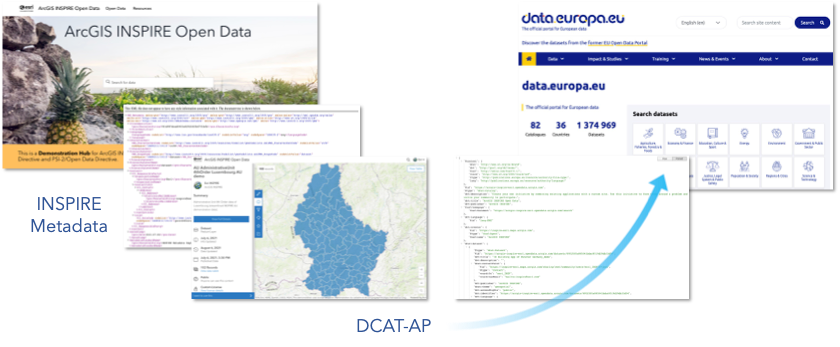 Now you can easily federate your ArcGIS Hub open data catalogue to content aggregators, such as the European Data Portal data.europa.eu.
To see the DCAT or DCAT-AP endpoint in action, append the following to the base URL of a public ArcGIS Hub site:
| | | |
| --- | --- | --- |
| DCAT Profile | Parameter | Details |
| DCAT-US POD v1.1 | <HubSiteURL>/data.json | US Project Open Data (POD) used by and data.gov |
| DCAT-AP (Europe) | <HubSiteURL>/catalog/dcat-ap/2.0.1.json | Europe DCAT-AP (v2.0.1) used by data.europa.eu |

For example, view the ArcGIS INSPIRE Open Data demonstration Hub's DCAT-AP feed:
https://arcgis-inspire-esri.opendata.arcgis.com/catalog/dcat-ap/2.0.1.json
Then, register your catalogue endpoint with the appropriate open data content aggregators.
Spoiler
TIP: Popular browser extensions are available that enable viewing of "pretty" JSON structure. For example, 'JSON Formatter' is a popular Chrome browser extension.
Benefits of ArcGIS Hub and DCAT-AP
Your content is dynamic. ArcGIS Hub automatically updates your DCAT-AP feed when you edit the details of your item's metadata or add new public items to your catalogue. Because it is based on the metadata you already maintain in ArcGIS, there is no need to manually create separate DCAT metadata.
By using a common metadata schema to describe datasets:
Data publishers increase the discoverability of the data and thus re-use
Data re-users can search across platforms without facing difficulties caused using separate models or language differences
DCAT-AP provides a common specification for describing public sector datasets in Europe to enable the exchange of descriptions of datasets among data portals. This application profile is a specification for metadata records to meet the specific application needs of data portals in Europe.
Additional Resources
You must be a registered user to add a comment. If you've already registered, sign in. Otherwise, register and sign in.