by
RachelWeeden

Esri Contributor
Mark as New

Mark as Read

Bookmark

Subscribe

Email to a Friend
Many communities have started to focus on the role that healthy food access plays in addressing chronic disease and overall public health. In the City of Philadelphia, a group under the Department of Public Health called Food Fit Philly is focused on just this; one of their goals is to make healthy foods affordable and readily available in neighborhoods throughout Philadelphia. An aspect of achieving this goal is to first understand where inequities may exist - it is important to ask questions like are there certain neighborhoods in Philadelphia where residents do not have access to healthy food sources? How should 'access' be defined? How does access vary over time and place?
To support the understanding of these topics and to spark conversations around solutions, the Department recently released a report titled "Neighborhood Food Retail in Philadelphia." This report maps and analyzes access to both healthy and unhealthy foods, which is a unique perspective. Amory Hillengas, MUSA, a GIS Analyst within the Department, spearheaded a data-centric approach to creating the report. Starting in 2017, Amory began testing various GIS methods, and worked with experts in the field to determine a methodology for analyzing and visualizing food access. Relying on spatial and nonspatial data as well as various analytical and visualization methods, she produced a rich set of GIS content that supported the report. By 2019, the report was in draft mode, and was recently released in September 2019.
Behind the scenes, Amory used ArcGIS Pro and the ArcGIS Network Analyst extension, specifically the OD Cost Matrix solver. Many people use Network Analyst tools for basic routing, but might not be aware of the other solvers that are also available. In this case, Amory needed to measure distance between many different origins (block groups representing where people live) and destinations (food retailers), which this tool was designed to do: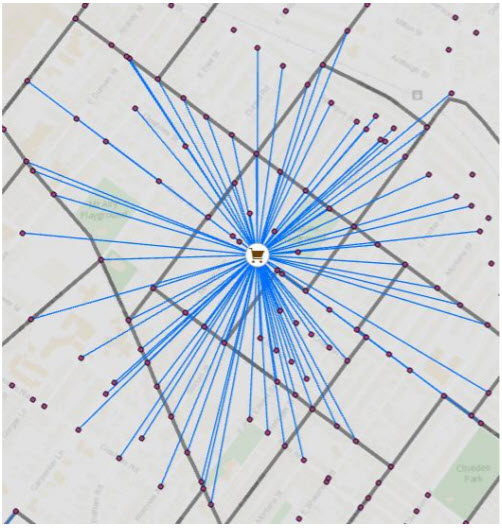 Note that the map shows straight line distance, but the underlying measure can be travel time or travel distance - in this case, 1/2 mile or 10 minutes was designated as "accessible."
In addition to the PDF report, Amory also created several interactive information products that allow users to explore the maps and data, shown in this online resource gallery: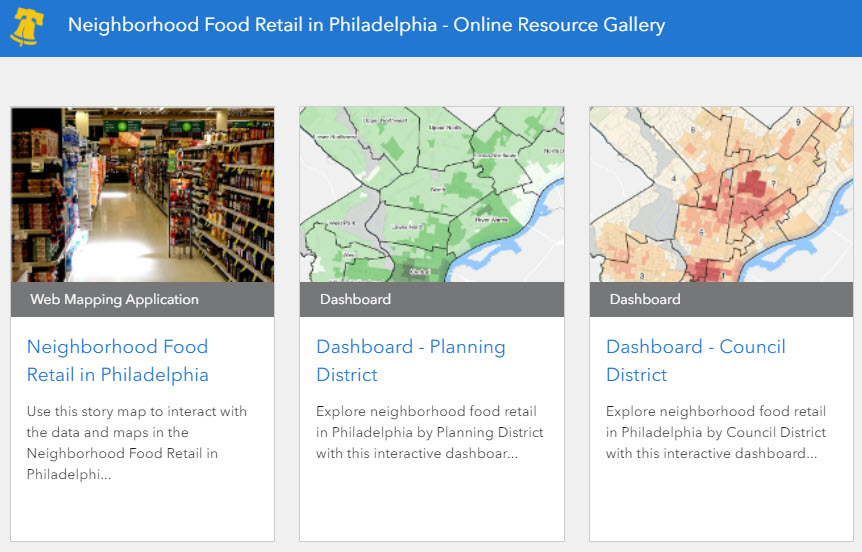 By using ArcGIS Story Maps and Operations Dashboard for ArcGIS, she was able to bring life to the report, including a 3D scene that provides an effective method for visualizing the disparity of healthy food access across the City. Extruding features to 3D symbology in ArcGIS Pro is an easy way to change up what would traditionally be a thematic choropleth map; the 3D rendering adds a different dimension and really highlights the disparity in a way that is not as visible in 2D. This map shows the percentage of all stores within walking distance that are high-produce supply stores, with the tall/dark green areas having the highest percentage nearby: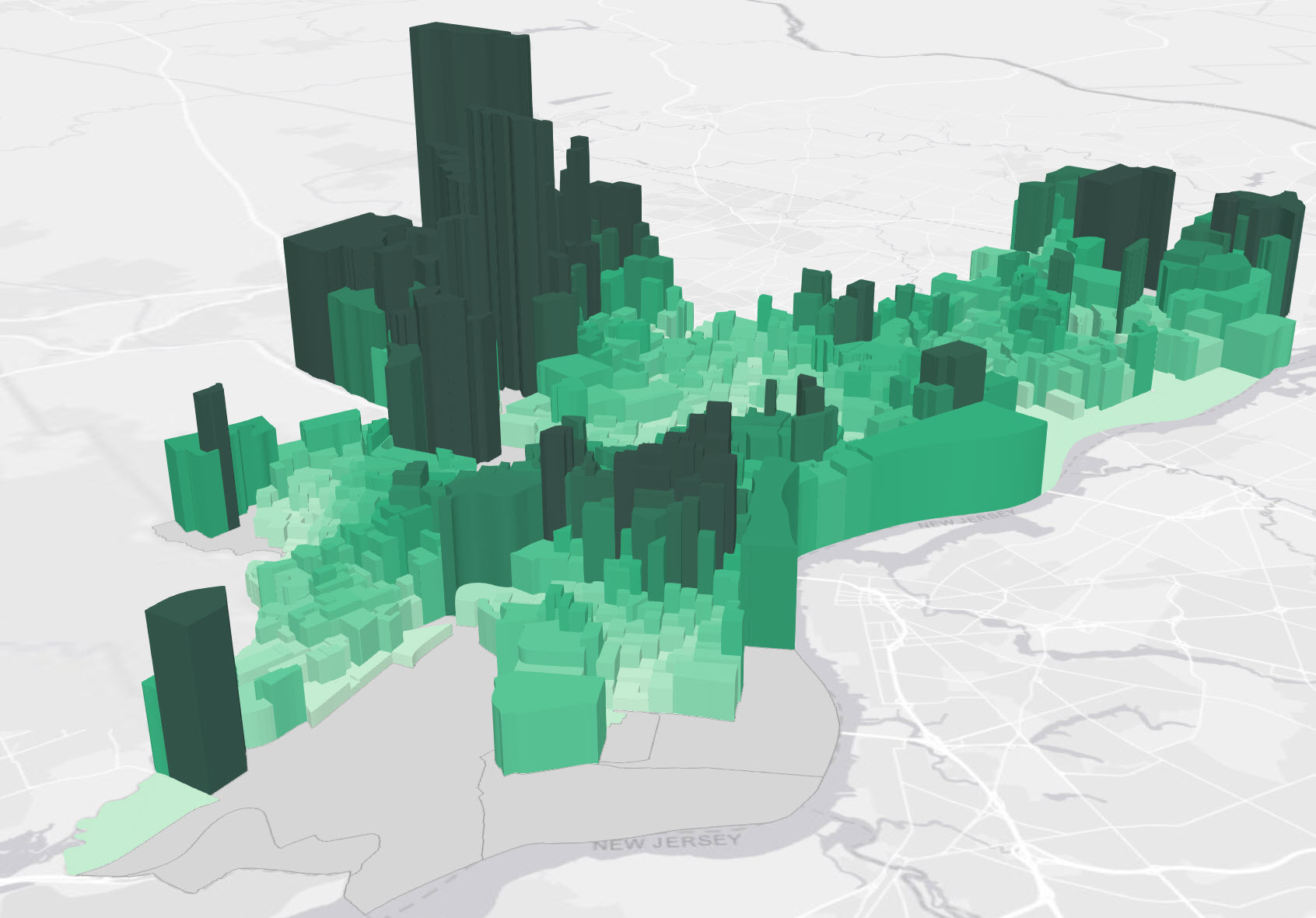 The process of mapping and analyzing the neighborhood food retail landscape in Philadelphia was not a simple undertaking. GIS enabled various aspects of this project (including data management, mapping & visualization, analytics, and constituent engagement) and presents this very relevant topic in a modern, data-driven way.
For more information, contact Amory at Amory.Hillengas@phila.gov.
You must be a registered user to add a comment. If you've already registered, sign in. Otherwise, register and sign in.