Mark as New

Mark as Read

Bookmark

Subscribe

Email to a Friend
Each month we feature GeoMentor volunteers to showcase the wonderful talent available in our community to assist K-12 schools.
Read our full collection of GeoMentor spotlights

online
. Want to be featured?
Information is available on our

program website
.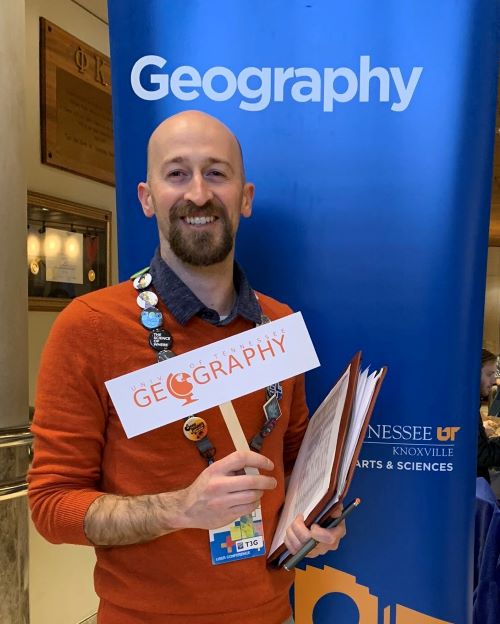 Position/Job and Affiliation:
GIS Outreach Coordinator, Geography Department, University of Tennessee Knoxville
What was your favorite class in K-12?
Survey of Literature with Gloria Oster at Sullivan South High School. I always liked to read but she introduced me to so many new authors and literary styles.
How did you first learn about and/or use GIS? I was an undergraduate student at TN Technological University in Cookeville, TN studying Soil Science and my advisor said I should take "one of those computer mapping classes" as an elective. I haven't stopped learning about GIS since then.
Name one thing you love about GIS and/or geography: I love the interdisciplinary nature of GIS, I have the opportunity to work with so many talented professionals and researchers to help them answer questions and solve problems that I otherwise would never know existed.
Why did you want to volunteer as a GeoMentor? I want young people in Tennessee to know that geography and GIS are a viable career path that lead to a lot challenging and engaging opportunities.

What kind of GeoMentor volunteer opportunity and experience are you looking for? My biggest goal right now is to help classroom teachers find ways to integrate GIS into their already existing curriculum… but that hasn't stopped us from visiting schools with our augmented reality sandbox, our portable stream table, or our SimTable to help teach physical geography concepts.
If someone asked you why they should learn about GIS and/or geography, how would you respond in one sentence? Everything happens somewhere.
Email: mcampono@utk.edu
Websites: UTK GIS Lab; MEGA:BITESS Academy; Opioids in Tennesee storymap; Tennessee Geographic Alliance Open Data Portal
Twitter: @mcamponovo
You must be a registered user to add a comment. If you've already registered, sign in. Otherwise, register and sign in.