New Contributor III
Mark as New

Bookmark

Subscribe

Mute
Is there a way to export, to excel, a list of all feature dataset and feature classes? Essentially everything that is in the geodatabase. I can export to XML, but how would I get it to excel? And, how could I tell where there feature classes or tables that where installed when the LGIM was installed, but do not contain any data?
1 Solution

by
JakeSkinner

Esri Esteemed Contributor
Mark as New

Bookmark

Subscribe

Mute
Hi John,
You can print out this information using python. Below is an example. You could add on to this if you want to write it to an excel spreadsheet. To do this, you could use the XlsxWriter module.
import arcpy
from arcpy import env
env.workspace = r"D:\Temp\Python\Redlands.gdb"

for dataset in arcpy.ListDatasets("*"):
    print dataset
    for fc in arcpy.ListFeatureClasses("*", "", dataset):
        count = arcpy.GetCount_management(fc).getOutput(0)
        print "\t" + fc + ": " + str(count)

for fc in arcpy.ListFeatureClasses("*"):
        count = arcpy.GetCount_management(fc).getOutput(0)
        print fc + ": " + str(count)
Example of output written from above script: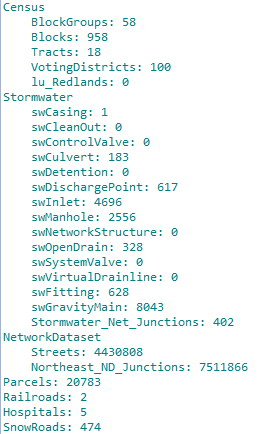 13 Replies