New Contributor III
Mark as New

Bookmark

Subscribe

Mute
Hello,
i 'm creating some View into my sde connection using data stored into this oracle db.
The Oracle db have SDO_GEOMETRY and not ST_GEOMETRY.
I have some table that contain different aggregation data and i creating the View reading data by this table but for some table when i have create the View i recive this error: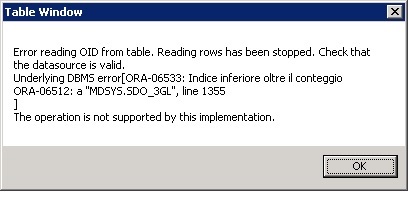 Any help please?
Thanks
2 Replies

Esri Frequent Contributor
Mark as New

Bookmark

Subscribe

Mute
Hi DEV APP,
I think that we will need a little more context to the issue.
-What version of Oracle?
-What version is the geodatabase at?
-Can you provide some sample SQL that you are using to create your view?
-What type of feature class is the view being created on? It the table registered with the geodatabase?
-What ArcGIS Client is being used to view the DB view?
The error message looks like there may an issue reading the OID's in the table.....
-George
--- George T.

New Contributor III
Mark as New

Bookmark

Subscribe

Mute
Hi George,
thanks for your reply.
Oracle version is 11.2 G
Query is a select inito a date range.(i have create 7 view whit same query but by reading different table and only for 3 table i recive the error. All table have an aggregation data)
The FC was create into a registered geodatabase enterprise
The view was create by ArcMap
In the past i had a similar error on polyline data on oracle and the error was a geomtry null or SR wrang into SDO_GEOMETRY
Thanks