Occasional Contributor III
Mark as New

Bookmark

Subscribe

Mute
I started using the "Gas and Pipeline Data Management for ArcGIS Enterprise", I made the deployment of the version 1.2 (it includes a UPDM deployment solution for the version 2020).
Following the instructions provided in here I tried to prototype a single user environment with WGS 1984 as Geographical Coordinates Reference system.
I found the first detail:
In my experience with the UPDM 2016, UPDM 2018 the APR was configured using the P_Centerline feature class, in this version, I found the script that enable APR uses PipelineLine feature class as Centerline Feature Class. (I have not check yet in the data dictionary of UPDM 2020 to know if this is a bug or a change in the Data Model).
Following my instincts, I modify the LRS using the P_Centerline feature class as the Centerline Feature Class (If I made a huge mistake here, please let me know).
After having a file geodatabase configured as UPDM, with APR, I said to myself: "Myself, let's create a couple of centerlines, then using those centerlines create some routes in the Engineering Network, and just for fun, we will create a couple of Pipeline devices"
I created a couple of centerlines (Nothing fancy, just create a couple of lines using editing tools in ArcGIS Pro). Now, lets go for the for the routes, when I try to use the Create Route tool, I am no able to do it, the tool does not recognize the centerlines as proper geographic objects :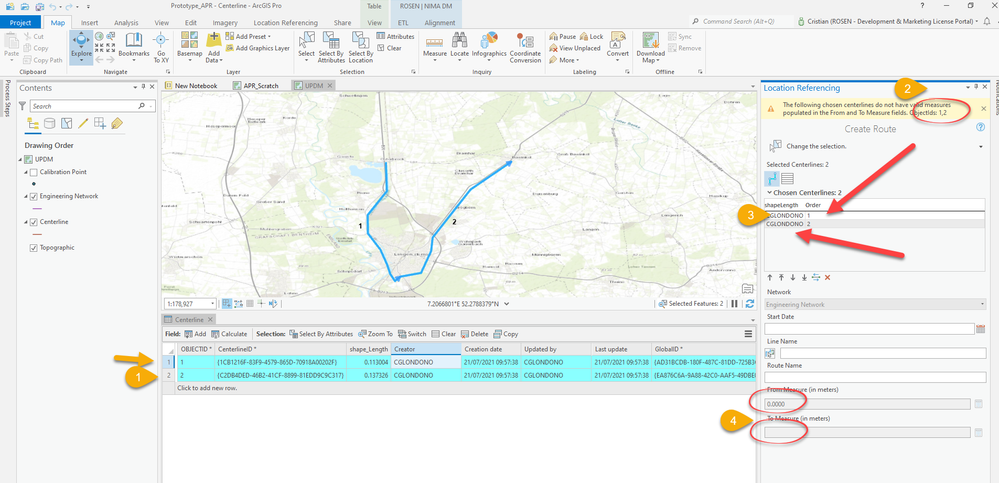 Centerlines created
Create Route Tool says that the centerlines does not have valid measures.
The selection pane identify the length of the shape as the creator (Is there a bug?)
The fields "From Measure" and "To Measure" in the tool appear disable
With this situation, my dream of having my own little UPDM 2020 with information was crashed 😞
Then I decided to create a new empty File geodatabase (WGS 1984), and created the required structure to make this FGDB a APR enable FGDB, after doing that with the CreateLRS tool:
arcpy.locref.CreateLRS(r"C:\Temp2\APR\APR_FROM_SCRATCH.gdb", "ALRS", "Centerline", "Calibration_Point", "Redline", "Centerline_Sequence", 'GEOGCS["GCS_WGS_1984",DATUM["D_WGS_1984",SPHEROID["WGS_1984",6378137.0,298.257223563]],PRIMEM["Greenwich",0.0],UNIT["Degree",0.0174532925199433]];-400 -400 1000000000;-100000 10000;-100000 10000;8.98315284119521E-09;0.001;0.001;IsHighPrecision', "8.98315284119521E-09 DecimalDegrees", "0.001 Meters", "0.000000001 DecimalDegrees", "0.0001 Meters")
In that point of time, I created my three centerlines, to be able to create the routes in the network, then, I tried to create the routes: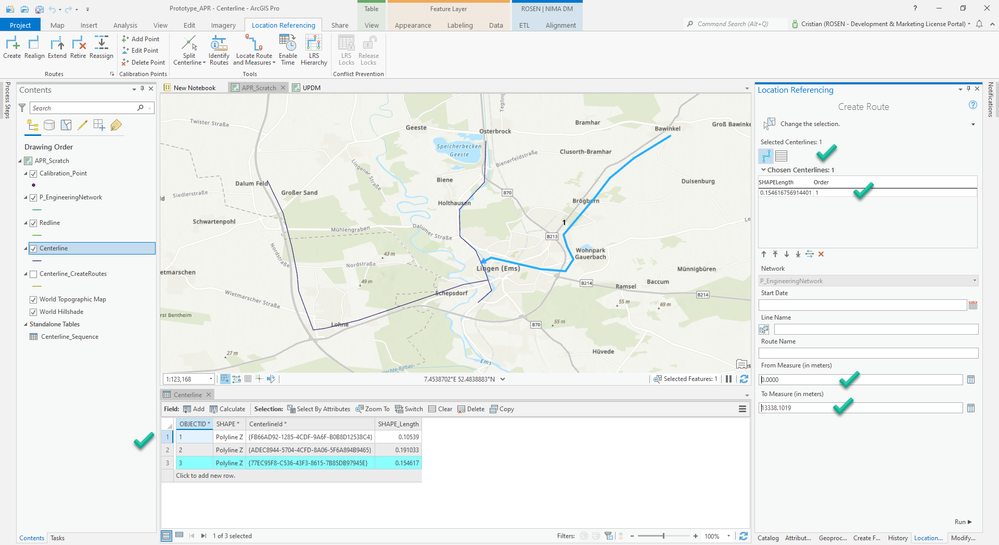 Everything looks perfect, I was able to create the routes.
After all this comments, code and images, the question remains:
How I create my basic Pipeline infrastructure (Lines/Routes/Assets) in UPDM 2020 in a File Geodatabase?
By the way, I was using ArcGIS Pro 2.8 when the problem appear, and today after updating to 2.8.2, the problem is still present.
4 Replies