New Contributor III
Mark as New

Bookmark

Subscribe

Mute

Email to a Friend
I have a points layer (Electrical Transmission structures) and a Transmission line layer. The points layer sits on top of the line layer and because the line layer changes direction all the time it is hard to label the points layer sometimes. What I would like to do is label the points layer perpendicular to the line layer.
Does anyone have an answer for me?
1 Solution

by
XanderBakker

Esri Esteemed Contributor
Mark as New

Bookmark

Subscribe

Mute

Email to a Friend
It would be important to know what software you are using (and the version). Are you using desktop (Pro or ArcMap) or ArcGIS Online?
In case of Desktop, you could create a script to generate a field with the rotation based on the bisector. A few years ago I created a tool to define service areas of transmission tower applying the rotation based on the bisector (the green polygons in the image below):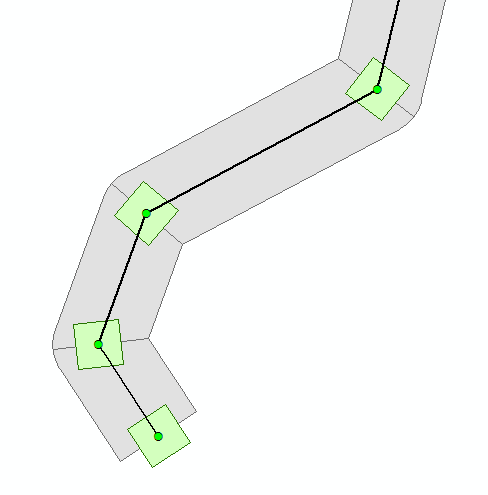 The rotation determined by the tool could be written to the transmission towers and those can be used to define the rotation of the label. See the code below. The angles are determined on lines 51, 73 and 93.
import

 arcpy



def

 

main

(

)

:


    

import

 os
    arcpy

.

env

.

overwriteOutput 

=

 

True



    

# input fc


    fc 

=

 arcpy

.

GetParameterAsText

(

0

)

  

# r'C:\...\data.gdb\Torres'


    fld_label 

=

 arcpy

.

GetParameterAsText

(

1

)

  

# 'LABEL'


    fld_orden 

=

 arcpy

.

GetParameterAsText

(

2

)

  

# 'orden'


    buf 

=

 arcpy

.

GetParameter

(

3

)

  

# 20m servidumbre


    fc_out 

=

 arcpy

.

GetParameterAsText

(

4

)

  

# poligonos de servidumbre



    

# spatial reference


    sr 

=

 arcpy

.

Describe

(

fc

)

.

spatialReference

    

# dicts, listado para orden


    arcpy

.

AddMessage

(

'Generar dictionarios con coordenadas, labels y orden...'

)


    flds 

=

 

(

fld_orden

,

 

'SHAPE@'

)


    dct_crds 

=

 

{

r

[

0

]

:

 r

[

1

]

 

for

 r 

in

 arcpy

.

da

.

SearchCursor

(

fc

,

 flds

)

}


    flds 

=

 

(

fld_orden

,

 fld_label

)


    dct_lbl 

=

 

{

r

[

0

]

:

 r

[

1

]

 

for

 r 

in

 arcpy

.

da

.

SearchCursor

(

fc

,

 flds

)

}



    

# create list of points and order list


    arcpy

.

AddMessage

(

'Ordenar torres...'

)


    lst_ptgs 

=

 

[

pntg 

for

 orden

,

 pntg 

in

 sorted

(

dct_crds

.

items

(

)

)

]


    lst_orden 

=

 sorted

(

dct_crds

.

keys

(

)

)



    

# create output featureclass


    arcpy

.

AddMessage

(

'Crear featureclass de salida...'

)


    ws

,

 fc_name 

=

 os

.

path

.

split

(

fc_out

)


    arcpy

.

CreateFeatureclass_management

(

ws

,

 fc_name

,

 

"POLYGON"

,

 None

,

 None

,

 None

,

 sr

)



    

# add fields


    arcpy

.

AddField_management

(

fc_out

,

 fld_label

,

 

"TEXT"

,

 None

,

 None

,

 

50

)


    flds_out 

=

 

(

'SHAPE@'

,

 fld_label

)



    

# empty lists for output features


    lst_puntos 

=

 

[

]


    lst_lineas 

=

 

[

]


    lst_poligonos 

=

 

[

]



    

# start insert cursor


    arcpy

.

AddMessage

(

'Recorrer torres...'

)


    

with

 arcpy

.

da

.

InsertCursor

(

fc_out

,

 flds_out

)

 

as

 curs

:



        

# first polygon


        

if

 len

(

lst_ptgs

)

 

>=

 

2

:


            pntg_1 

=

 lst_ptgs

[

0

]


            pntg_2 

=

 lst_ptgs

[

1

]


            angle_12 

=

 getAngle

(

pntg_1

,

 pntg_2

)


            cut_line 

=

 createPerpendicularCutLine

(

pntg_1

,

 angle_12

,

 buf

,

 sr

)



            

# create polygon


            polygon 

=

 createServidumbre

(

pntg_1

,

 cut_line

,

 buf

,

 sr

)



            

# generate and insert output row


            lbl1 

=

 dct_lbl

[

lst_orden

[

0

]

]


            arcpy

.

AddMessage

(

' - procesar: {0}'

.

format

(

lbl1

)

)


            curs

.

insertRow

(

(

polygon

,

 lbl1

,

 

)

)




        

# intermediate polygons


        

for

 i 

in

 range

(

1

,

 len

(

lst_ptgs

)

 

-

 

1

)

:


            

# read points


            pntg_a 

=

 lst_ptgs

[

i 

-

 

1

]


            pntg_1 

=

 lst_ptgs

[

i

]


            pntg_2 

=

 lst_ptgs

[

i 

+

 

1

]



            

# get angles and bearings


            angle_1a 

=

 getAngle

(

pntg_1

,

 pntg_a

)


            angle_12 

=

 getAngle

(

pntg_1

,

 pntg_2

)


            bearing_l 

=

 

(

angle_1a 

+

 angle_12

)

 

/

 

2.0



            

# create cut lines


            cut_line 

=

 createCutLine

(

pntg_1

,

 bearing_l

,

 buf

,

 sr

)



            

# cut polygon


            polygon 

=

 createServidumbre

(

pntg_1

,

 cut_line

,

 buf

,

 sr

)



            

# generate and insert output row


            lbl1 

=

 dct_lbl

[

lst_orden

[

i

]

]


            arcpy

.

AddMessage

(

' - procesar: {0}'

.

format

(

lbl1

)

)


            curs

.

insertRow

(

(

polygon

,

 lbl1

,

 

)

)




        

# last polygon


        

if

 len

(

lst_ptgs

)

 

>=

 

2

:


            pntg_1 

=

 lst_ptgs

[

len

(

lst_ptgs

)

 

-

 

2

]


            pntg_2 

=

 lst_ptgs

[

len

(

lst_ptgs

)

 

-

 

1

]



            

# get angles and bearings


            angle_21 

=

 getAngle

(

pntg_2

,

 pntg_1

)


            cut_line 

=

 createPerpendicularCutLine

(

pntg_2

,

 angle_21

,

 buf

,

 sr

)



            

# cut polygon


            polygon 

=

 createServidumbre

(

pntg_2

,

 cut_line

,

 buf

,

 sr

)



            

# generate and insert output row


            lbl1 

=

 dct_lbl

[

lst_orden

[

len

(

lst_ptgs

)

 

-

 

2

]

]


            arcpy

.

AddMessage

(

' - procesar: {0}'

.

format

(

lbl1

)

)


            curs

.

insertRow

(

(

polygon

,

 lbl1

,

 

)

)



    arcpy

.

AddMessage

(

'Listo...'

)






def

 

createServidumbre

(

pntg

,

 cut_line

,

 servidumbre

,

 sr

)

:


    '''
    Create rectangle using the cutline
    and the size of the servidumbre
    '''

    angle_cut_line 

=

 getAngleLine

(

cut_line

)


    tmp_pntg1 

=

 pntg

.

pointFromAngleAndDistance

(

angle_cut_line

,

 servidumbre 

/

 

2.0

,

 

'PLANAR'

)


    tmp_pntg2 

=

 pntg

.

pointFromAngleAndDistance

(

angle_cut_line 

+

 

180

,

 servidumbre 

/

 

2.0

,

 

'PLANAR'

)



    

# create corner points


    pntg1a 

=

 tmp_pntg1

.

pointFromAngleAndDistance

(

angle_cut_line 

-

 

90

,

 servidumbre 

/

 

2.0

,

 

'PLANAR'

)


    pntg1b 

=

 tmp_pntg1

.

pointFromAngleAndDistance

(

angle_cut_line 

+

 

90

,

 servidumbre 

/

 

2.0

,

 

'PLANAR'

)


    pntg2a 

=

 tmp_pntg2

.

pointFromAngleAndDistance

(

angle_cut_line 

+

 

90

,

 servidumbre 

/

 

2.0

,

 

'PLANAR'

)


    pntg2b 

=

 tmp_pntg2

.

pointFromAngleAndDistance

(

angle_cut_line 

-

 

90

,

 servidumbre 

/

 

2.0

,

 

'PLANAR'

)



    polygon 

=

 arcpy

.

Polygon

(

arcpy

.

Array

(

[

pntg1a

.

firstPoint

,

 pntg1b

.

firstPoint

,


        pntg2a

.

firstPoint

,

 pntg2b

.

firstPoint

,

 pntg1a

.

firstPoint

]

)

,

 sr

)



    

return

 polygon




def

 

getAngleLine

(

line

)

:


    pntg1 

=

 arcpy

.

PointGeometry

(

line

.

firstPoint

,

 line

.

spatialReference

)


    pntg2 

=

 arcpy

.

PointGeometry

(

line

.

lastPoint

,

 line

.

spatialReference

)


    

return

 getAngle

(

pntg1

,

 pntg2

)






def

 

createPerpendicularCutLine

(

pntg

,

 angle

,

 dist

,

 sr

)

:


    pntg_cut_1 

=

 pntg

.

pointFromAngleAndDistance

(

angle 

-

 

90

,

 dist 

*

 

2.0

,

 

'PLANAR'

)


    pntg_cut_2 

=

 pntg

.

pointFromAngleAndDistance

(

angle 

+

 

90

,

 dist 

*

 

2.0

,

 

'PLANAR'

)


    cut_line 

=

 arcpy

.

Polyline

(

arcpy

.

Array

(

[

pntg_cut_1

.

firstPoint

,

 pntg_cut_2

.

firstPoint

]

)

,

 sr

)


    

return

 cut_line




def

 

createCutLine

(

pntg

,

 bearing1

,

 buf

,

 sr

)

:


    bearing2 

=

 bearing1 

+

 

180


    pntg_cut_1 

=

 pntg

.

pointFromAngleAndDistance

(

bearing1

,

 buf 

*

 

10.0

,

 

'PLANAR'

)


    pntg_cut_2 

=

 pntg

.

pointFromAngleAndDistance

(

bearing2

,

 buf 

*

 

10.0

,

 

'PLANAR'

)


    cut_line 

=

 arcpy

.

Polyline

(

arcpy

.

Array

(

[

pntg_cut_1

.

firstPoint

,

 pntg_cut_2

.

firstPoint

]

)

,

 sr

)


    

return

 cut_line




def

 

createLine

(

pntg1

,

 pntg2

,

 sr

)

:


    

return

 arcpy

.

Polyline

(

arcpy

.

Array

(

[

pntg1

.

firstPoint

,

 pntg2

.

firstPoint

]

)

,

 sr

)






def

 

getAngle

(

pntg1

,

 pntg2

)

:


    

return

 pntg1

.

angleAndDistanceTo

(

pntg2

,

 method

=

'PLANAR'

)

[

0

]






if

 __name__ 

==

 

'__main__'

:


    main

(

)

‍

‍

‍

‍

‍

‍

‍

‍

‍

‍

‍

‍

‍

‍

‍

‍

‍

‍

‍

‍

‍

‍

‍

‍

‍

‍

‍

‍

‍

‍

‍

‍

‍

‍

‍

‍

‍

‍

‍

‍

‍

‍

‍

‍

‍

‍

‍

‍

‍

‍

‍

‍

‍

‍

‍

‍

‍

‍

‍

‍

‍

‍

‍

‍

‍

‍

‍

‍

‍

‍

‍

‍

‍

‍

‍

‍

‍

‍

‍

‍

‍

‍

‍

‍

‍

‍

‍

‍

‍

‍

‍

‍

‍

‍

‍

‍

‍

‍

‍

‍

‍

‍

‍

‍

‍

‍

‍

‍

‍

‍

‍

‍

‍

‍

‍

‍

‍

‍

‍

‍

‍

‍

‍

‍

‍

‍

‍

‍

‍

‍

‍

‍

‍

‍

‍

‍

‍

‍

‍

‍

‍

‍

‍

‍

‍

‍

‍

‍

‍

‍

‍

‍

‍

‍

‍

‍

‍

‍

‍
5 Replies