by
AmyNiessen

Esri Regular Contributor
Mark as New

Mark as Read

Bookmark

Subscribe

Email to a Friend
At UC last night we hosted the Lightning Talks, and it was even better than ever! Even our new location didn't thwart the interest that came into Ballroom 20A on Monday evening. With 19 presentations ranging from 3D to open data, users came from Brazil, New Zealand, Mexico, and even Africa to share some of the work they've been doing with Esri's software in five minutes or less. With over 300 people in attendance, the speakers got a great sense of community and comradery as they engaged and laughed along with the fun ideas and imagery that the presenters creatively played within their 300 seconds of glory.
We even had a couple of our winners from the USC Viterbi Fellows Grand Challenge Hackathon that took place this year February 3 – 5th. Trisha Palit and Maria Camasmie presented their application that won at the hackathon challenge: Maji. It was great to hear their development and the work that they've done with it as it came to fruition.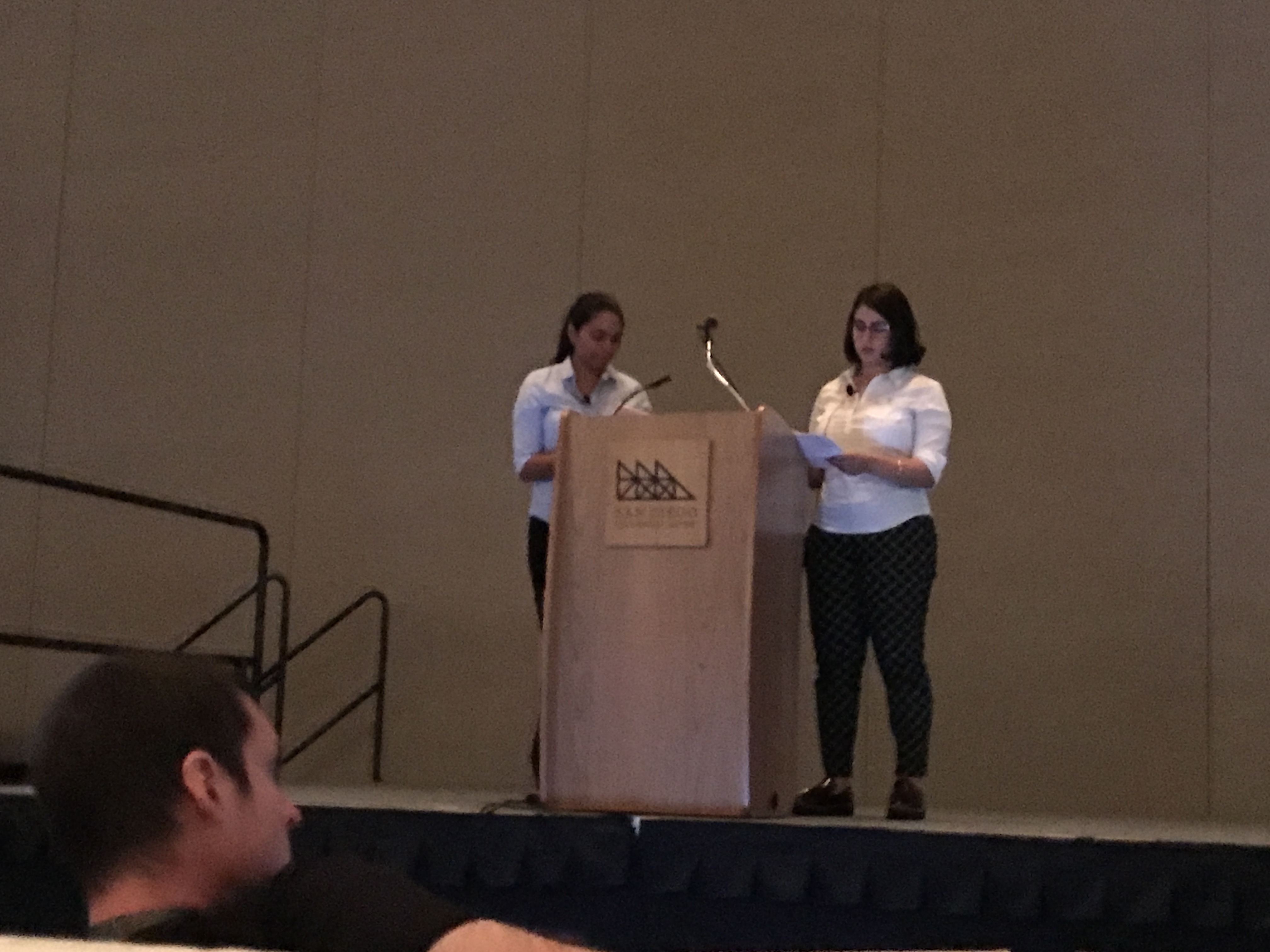 The event was sheer success! We only had to pull maybe two people off of the stage, as their presentation time hit five minutes. We show no mercy, but the presenters understand. They just get so excited to be up there and have so much to say! But that is the beauty of the event – it's only five minutes! The briefness of the event allows for the community to have their interest piqued, but not so much so as to inundate anyone with information they may or may not find useful. Just a taste is enough to get others involved and interested enough to obtain presenter information for more details later.
See the full list of presenters and their lightning talks below. If you are interested in viewing some of these presentations or getting in touch with the presenters, do not hesitate to contact us for more information.
If you are interested in participating in this event next year, please let us know! We would love to host this event again and would love to hear about your interest.
| | |
| --- | --- |
| Presenter | Presentation |
| Molly Burnhans | ArcGIS for Budgeting, Project Management, and Strategic Planning |
| Matthew McLamb | GreenCity GIS |
| Trisha Palit and Maria Camasmie | Maji |
| Gareth Gibson | Augmented Reality is the New Reality |
| Leena Gautam | ArcGIS GeoPDF Streamlines Field Operations |
| Vic Baker | FTP Data Mining: Hadoop + Esri |
| Norman Mucha | ARCMAP Helps an Art Museum Boost Membership and Attendance! |
| Josh Greenberg | Building Outlines to Spatially Track Enterprise Data |
| Eric Abrams | No Data for You |
| Robbi McKinney | 3D Point Evaluation: Displaying Geophysical Borehole Data with Tools Right out of the Box |
| Ismael Hernandez Arzate | Hazard model for wildfires in Mineral del Monte, Hidalgo. Mexico |
| Michelle Totman | Four Band Imagery: What is it, and why Should I Care? |
| Zachary Neumann | Talking Points Collaborative Mapping |
| Rob Rader | Solving Utility Spatial Relationship |
| Beau Legeer | Taming the Data Tornado |
| Jennifer Bauer | Uncertainty - It's Not a Dirty Word |
| Alessandro Cesar de Sousa Berredo | Overhead Powerline Vegetation Management |
| Michael Charles | Mapping My World: Pacific Geospatial Semester |
| Alan Moss | Ilifa Africa Engineers South Africa |
You must be a registered user to add a comment. If you've already registered, sign in. Otherwise, register and sign in.