New Contributor
Mark as New

Bookmark

Subscribe

Mute
I recently started a new position at work where I am reconciling and posting versioned data to our SDE geodatabase and I am confused as to what the Current column refers to. I am new to working with versioned data, so I apologize if this is a dumb question. Here's a screenshot of the dialog box from ESRI: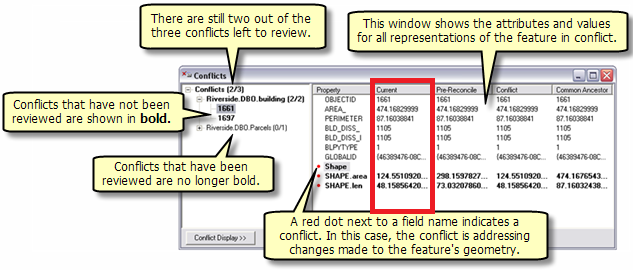 My coworker who's training me said that the current column refers to what is currently in the SDE, but it seems that that is actually what the Common Ancestor column is according to the "Quick tour of reviewing conflicts" page on the ESRI website. I then thought that it must be the newest version of the data then, but then I came across a feature where the Pre-Reconcile version has a more recent date modified than the current. Plus, when I accept a pre-reconcile feature, the current column updates to reflect the pre-reconcile info. So what exactly is the relationship between Current and the other columns? I haven't been able to find an exact answer in the ESRI documentation, but perhaps I'm looking in the wrong place. Any help would be greatly appreciated!
2 Replies

Occasional Contributor III
Mark as New

Bookmark

Subscribe

Mute
No definitely not a dumb question. You are right about Common Ancestor. Your version as edited in your map is definitely Pre-Reconcile, not Current. And the documentation does not cover this column that I can find.
My guess is that Current is a holding column that could change as you interactively pick which value to substitute, but I can't test that right now. In other words, what you're going to post when you are done reviewing. In the example Conflict and Current are the same, so most people would just pick the column with the value they like and understand (anything but Current) and then go on to the next conflict, thus not paying much mind to whether Current's values change.

New Contributor
Mark as New

Bookmark

Subscribe

Mute
Thank you! That helps clear things up.
So on a related note, if a feature does not exist in the common ancestor column, but it does exist in the conflict and pre-reconcile columns, does that imply that the feature was created, reconciled, edited and is now being reconciled again?