New Contributor
Mark as New

Bookmark

Subscribe

Mute
I'm using ArcMap 10.3.1 for Desktop and have been experiencing the below error when I try to export data or tables: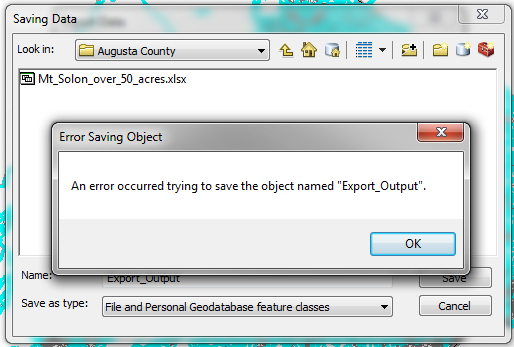 This started happening a couple days ago and only was happening when I specified the export file name. Now it's happening even if I use the default (and then go back and change it later).
Has anyone else experienced this error? Any help would be great!
Thanks!!
2 Replies

New Contributor II
Mark as New

Bookmark

Subscribe

Mute
Hello Alisande,
It seems that the export file type is feature class but you are under a folder. The feature classes should be located under a file/personal geodatabase. So if you want to save a spatial data under a folder you should select shapefile. If you would like to continue with feature class, then you need to create a geodatabase of your choice from ArcCatalog menu then point to that geodatabase while saving your data.
If you want to export table, in this case try other file types as, text file, .dbf etc.
Hope I could answer your question.
Have a great day!
Duygu Ocal

Not applicable
Mark as New

Bookmark

Subscribe

Mute
Having this same issue. are you exporting from a layer file?