Advanced Community members are granted the permissions to move posts in the community. This feature is helpful if a post is mistakenly created in the wrong place and would be better suited elsewhere for more visibility.
Who can Move a post
Esri staff*, distributors*, place managers, ideas managers, moderators, and advanced members (MVPs)
*Esri staff and distributors can only move posts they created.
To Move a post
Find the Post Options drop down
Select Move Post (may say Move Message)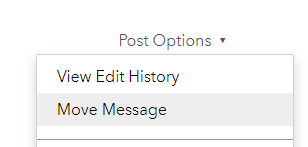 Choose whether to leave a placeholder in the original place ( this will leave a url link to the new location)
Choose whether to notify subscribers
Select the new Destination from the picklist
Choose the people to notify of the move
Click the Move Post button