Esri Community Subscriber Feature
New Feature: Subscriber counts and exports added to boards
This is a feature that I know our place managers, group owners and ideas managers have been asking for, so I am excited to report it was implemented in our latest release this morning.
Locating subscriber counts
There are two places where the new subscriber count will appear:
On the board page (question, ideas, docs, blog, events boards etc.)
All users will see a box in the right rail, under the subscribe button that indicates the number of subscribers.

2. All users will also see the subscriber count on tiles on the place overview page and when viewing the tiles form other boards. The subscriber number will be indicated by a people+ icon to the left of the views and comments counter.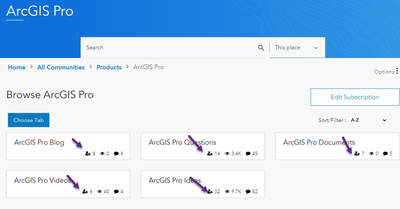 Exporting Subscriber Usernames
For Place Managers, Ideas Managers, and Group Owners only: Export CSV list of Subscribers
If you fall into one of the permission groups noted above, you will also see an export CSV button next to the subscriber count in the right rail of the board page.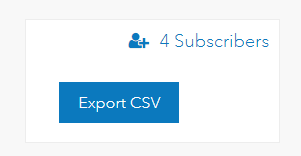 This export will provide you with a list of usernames for the community members who have subscribed to the board.
With this list of usernames, you can then send a broadcast private message to the users, following these steps:
Add a comma after each username
Copy the list of usernames
Open a private message
Select send as a broadcast message
Paste in the list of usernames
Add your message to the body
note: if someone subscribed, unsubscribed and re-subscribed, they may show in the list multiple times, you may need to remove any duplicates
By using a broadcast message, it sends it individually instead of everyone at one time so there is no worry of members seeing each other's names or avoid any rely-all messages.