Mark as New

Mark as Read

Bookmark

Subscribe
Community Closeup is a member profile series where we get to know members in GeoNet, The Esri Community.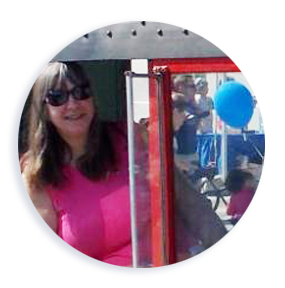 About Rebecca
When Rebecca Strauch started sharing her notes with the community, she created a following of hundreds of fellow GIS users who looked forward to every update to help them with their work. Rebecca retired from the Alaska Department of Fish and Game's, Division of Wildlife and was an avid user of Web AppBuilder. During her time there, she became a GeoNet MVP member and has been an Esri Community member since Esri Forums. A single post of collected notes she maintained in GeoNet generated more than 100,000 views and 106 likes.
How She Started in GIS

"I started at the Alaska Department of Fish and Game in the mid 80's, at a time when no one knew how to spell GIS, let alone knew what it was. That included me. The first day on the job, they asked if I was interested in learning GIS. I asked, "What is it?" When they answered "computerized mapping," I was hooked." – Rebecca Strauch
Rebecca started learned GIS through ArcInfo Workstation 3.0 classes. "I think we would all agree that 3.1 was the first decent version. AML (Arc Macro Language) opened up so many avenues (pun intended) of programming and GIS automation," said Rebecca.
As a fan of trains and as a model train enthusiast, one could say she laid down tracks for her geospatial journey with the Alaska Department of Fish and Game's Division of Wildlife, where she enjoyed a wide-ranging educational voyage for more than 30 years. Many GIS tools available today were not developed during the beginning of her career. She saw the opportunity to create efficient processes and programs that helped steer the division's GIS technology development. Her early work involved using a digitizing table, command lines, and AML programs to create new features, wildlife research applications, and management maps.
"I've enjoyed seeing the software's progress, and taking advantage of all the improvements made through the years with the different flavors of the software, even if it meant rewriting my code to simplify my processes," said Rebecca.
In collaboration with the division and the local ArcInfo User Group, she participated in efforts to set statewide standards for projections and base features that encouraged data sharing and reduced duplication of efforts. She also had the unique opportunity to influence ArcGIS products due to Alaska's geographic location by working with the Holistic Lab.
"Because of Alaska's shape and size, and because of the state's position crossing 180 longitude, the Division of Wildlife would have software issues arise that were unique. One of these issues was preventing us from moving past ArcGIS 9.3 and coverages, which prevented us from using GeoDatabases. Through the Holistic Lab, I was able to work with Esri staff to isolate the problem so they could resolve the issues before the next ArcGIS release."
Q&A Interview


What originally brought you to GeoNet?
I used the forums before the creation of GeoNet but was more of a searcher and viewer. At first, I didn't think I had much to offer the community, but then I realized I could answer some of the questions.
I was pretty isolated in my job, but I liked working on pushing the written limits of the software. I realized that some of my off-the-wall projects were not so different from what others were doing. This got me pumped up. I found that I could learn so much from others and pass on some of my knowledge, especially from the older software perspective.
How did GeoNet impact the way you worked with Esri products or support your career?
Since we had limited GIS in the Department at the time, and everyone had their own projects, having GeoNet and the other forums before that broadened my "peer group" and allowed me to find answers from them. Getting involved with answering questions gave me confidence and feedback that I never got from supervisors since they didn't really understand what I did.
What makes GeoNet, The Esri Community unique to you?
It's a community of diverse problems, perspectives, and solutions, but also one with a common bond. There are so many talented people in the community that are willing to share their experiences and knowledge with others without expecting anything in return.
I've also had the opportunity to meet and talk to other users on GeoNet that I have long admired. Some contact has only been through GeoNet or the MVP group. Others I have been able to meet at various summits or conferences.
One of your most popular posts in GeoNet is the Customization Resource List for Web App Builder for ArcGIS started in 2015. What made you launch this blog and keep the list of resources going?
This started as something I was doing just for myself. With so many updates to Web AppBuilder for ArcGIS and the user-created extensions published on GeoNet, I started a list of links so I could find them when I needed them. Our office networks changed often, and I decided I needed a safe, cloud-based place to store the information. GeoNet was a good fit. I figured a few others might benefit from it, and I made it public. I feel bad that since retirement, I haven't kept it up to date but hope to get back to it.
What value did you get from providing the help and support you've offered over the years?
I got back more than I gave. There are so many helpful people in the community. But besides that, I gained confidence that I did know some things that maybe everyone else in the community didn't know already. At work, I appreciate the thanks I received from many of the Department staff I supported, and the Alaska Arc User Group, which still meets monthly after 30+ years.
Lastly, I noticed a running theme in your profile involving trains and railroad model building. What's behind your love for trains and railroads?


As a kid, I was always fascinated with transportation. Trains seemed to be more accessible since there were many tracks in the area, and watching them for entertainment was free. Counting cars on a train was a standard task we were given by our parents to occupy our time when were kids traveling to visit our grandparents.
When I got older and took Surveying and Mapping courses, I started thinking about the history and how surveying and mapping played a role in how tracks were laid. The fascination of trains, train rides, model railroads, and the entire logistical fanfare of it all has never left me.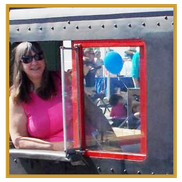 Extreme Closeup: Rebecca's "5 Favs"

What's your favorite map, and why?
I like historical maps. The surveyors and cartographers that created maps without computers, satellites, and the modern tools of today are in a class by themselves.

What's your favorite place in the world?
There are so many places I haven't been to yet. For now, I'm discovering touristy things in the States that I never had time to do, like going to Disney World.

What's your favorite thing to listen to while you're working?
I have an iPod with about 6,000 items where'd I listen to everything from classical to rock, and even some oddball things at random.

Favorite item on your desk?
A bare spot. (I had too much clutter.)

What was your favorite lunch meal?
Anything spicy.
New to GeoNet? Learn more and join the Community today!
You must be a registered user to add a comment. If you've already registered, sign in. Otherwise, register and sign in.