Mark as New

Mark as Read

Bookmark

Subscribe
As a GIS user, you may have been tasked with implementing a new GIS Systems or solution in the company, as many of us know the majority of the GIS departments are not that big, and usually, one person is doing it all, so what are the steps that you need to know to undergo this new task and encouraging the end-users to ensure the best possible success?
The important components of GIS Implementation
In the process of implementing a new Esri GIS System in your organisation, several factors need to be completed to ensure the best possible outcome. Technology and Users are the two main categories that are important to keep in mind when planning and preparing for this project.
Technology
As the name suggests Geographical information systems (GIS) are reliant on the underlying IT infrastructure of your company to support geographical research and data collection. This would comprise components such as servers, desktop software, organisational security settings, etc.
The best place to start with implementing a plan to migrate to the new system is to look at how the current organisational systems and business processes are built relating to the daily use of the systems. This will help you plan how you will be replacing and or changing the organisational structure by implementing this new solution or change and what is affected.
You will need to understand your organisations current workflows
You will need to research the systems or workflows that you are replacing or changing. Talk to the teams involved with the usage and upkeep of the software. In doing this you will likely find additional workflow and integrations needed as over time departments will adopt the solution to assist in their current workflows. By doing this you will ensure overall coverage of workflows impacted. This will also assist in the planning for your change management team for system adoption.
You will need to keep track of three areas of observation:
What is working with the current solution?
What is not working with the current solution?
What gaps are visible using the current solution?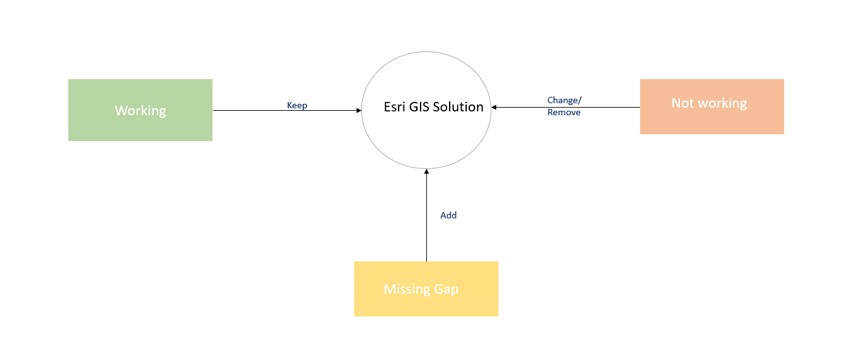 You should end up with a list of items to Keep, Add or Remove.
After understanding what is necessary from your GIS system, you can work on what is nice to have and see if those options are viable at this time.
You will need to understand your new Esri GIS environment
You will need to understand the new GIS environment and technology architecture as well as the solution which will be implemented or built. This is best done after you have understood what you currently have, and what you want to replace. There are several ways to combine the Esri products and technology to create your organisational GIS structure.
Here is an example of a simple architectural solution for your Esri software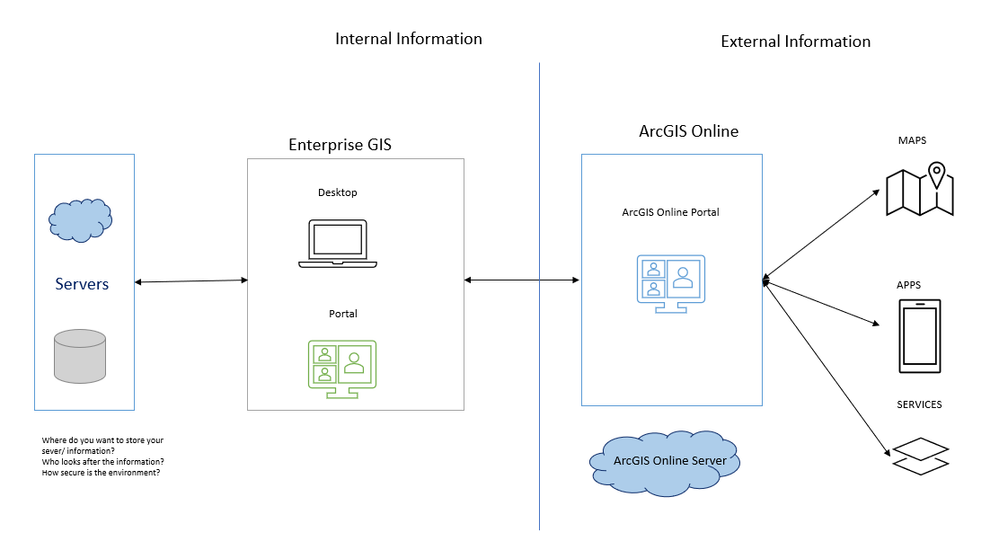 Basic overview of a system design
Other aspects to keep in mind things to note:
Understand how all your systems interact with other systems
Test how the product or solution would be used by the daily users
What products does the system need to interact with e.g. What are the external systems and databases or services that will use?
Users of the new Esri GIS solution:
For your new GIS system to have the best chance of success, you will need to plan and prepare the adoption process, for your users, this is best by finding the core group of champions that will be included in the initial phase of your system planning.
Client or organisational adoption
These steps will allow the users to be comfortable and confident with the product or solution by the time you get to go live.
The first point of contact with your users
You are proposing the idea of change (which is an uncomfortable topic) So while talking to the users about their daily activities and showing an understanding of their pain points. You propose to introduce a system that allows their jobs and departments to be improved, by keeping what needs to be there and by improving processes to make their jobs more efficient and reducing the daily trials of the current solution.
This is an introduction to the changes that are about to occur. By including them in the initial planning they will be more on board with the changes as it will help them in the future.
Continual involvement of your users and champions
It is important to remember to keep future users informed of the changes and progression of the solution. This will take them on a journey and make them feel a part of the project and initiate excitement for adoption. This will also ensure that the solution will be fit for the purpose.
Part of the adoption of your GIS solution is that you will need to have planned training sessions for your users to ensure that they are capable and comfortable to embrace the change. The optimal option will be to have training that relates to the user's daily activities, though in the cases that this can not be done, find the best training topics for your team and help them think of ways to use the system.
Ensure documentation is collected and create user-based documentation that is stored in an accessible location to help future employees understand the product and business workflows.
It is suggested that the users test the solution, and the champions assist in specific workflow testing. This will enforce training and encourage adoption of the GIS solution as well as ensure that the build is fit for purpose before you head to go live.
Other things to note:
The majority of the user may be new to the systems and concept of GIS, as a whole. So, they will need to be assisted in the learning curve.
Keep in mind the location of the users and ensure remote workers are included.
Promote questions and encourage users to feel supported through the process of adoption.
Encourage collaboration and support system for development and suggestions for improvement.
Let me know if there are any sections mentioned above you would like to know more about.
4 Comments
You must be a registered user to add a comment. If you've already registered, sign in. Otherwise, register and sign in.