New Contributor
Mark as New

Bookmark

Subscribe

Mute

Email to a Friend
I'm using the Story Map Journal Builder and have been using the "Organize" button delete sections in the Story Map. There used to be a little trash can on the right of the title for each section. However, now that I've hit "SAVE" in the upper right hand side of the Builder, I can move sections, but I can no longer delete them. Instead, I can only choose between Published and Hidden on the Status drop down menu for each section title in the Organize dialog box.
My question is: how can I go back to having the option to delete sections in the Organize dialog box?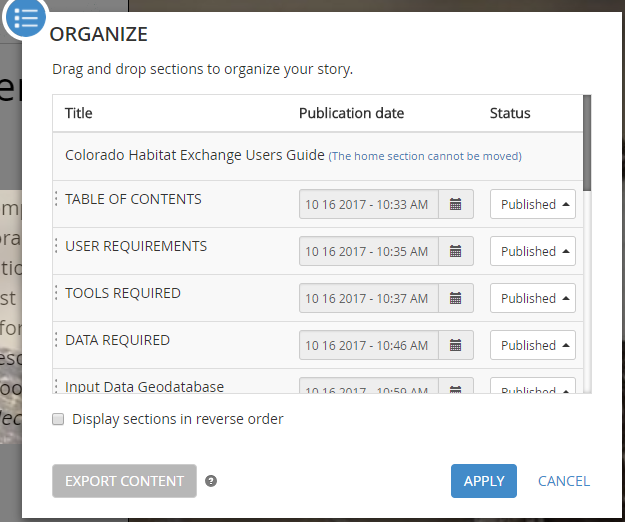 1 Solution

Frequent Contributor II
Mark as New

Bookmark

Subscribe

Mute

Email to a Friend
Hi Kelly
I can only reproduce this if one of the sections in my Map Journal has an usually long title with no spaces in it. For example if the title of my section is that long Hawaiian fish name (humuhumunukunukuapuaa) it partially clips the Delete icon but I can still click it. Does one of your section titles perhaps start with a long word with no spaces in it? If so, editing that title to break up that first word, and then going back to the Organize dialog should let you access the Delete button.
If that isn't what is going on, could you also let us know which web browser you are using and also which operating system (Windows 10, etc).
Rupert
4 Replies