New Contributor III
Mark as New

Bookmark

Subscribe

Mute
Hello all,
Like the title says, my data will not line up after reprojecting into the coordinate system I am trying to match with another.
I have an existing layer called AA_Cities and a newly downloaded shapefile called LA_County_Boundaries2022.
AA_Cities is currently in NAD_1983_StatePlane_California_VFIPS_0405_Feet.
LA_County_Boundaries2022 is being reprojected from WGS_1984_Web_Mercator_Auxiliary_Sphere to NAD_1983_StatePlane_California_VFIPS_0405_Feet.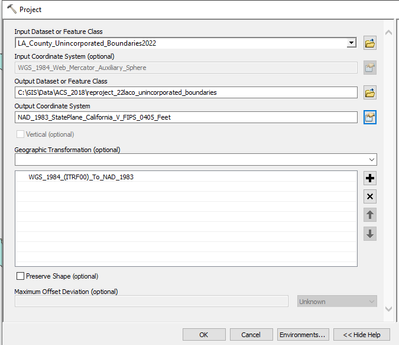 CITIES (existing)



LA County Unincorporated Boundaries 2022 (downloaded shapefile)



Reproject_22laco_unincorporated_boundaries (Reprojected Layer)



Data Not Lining Up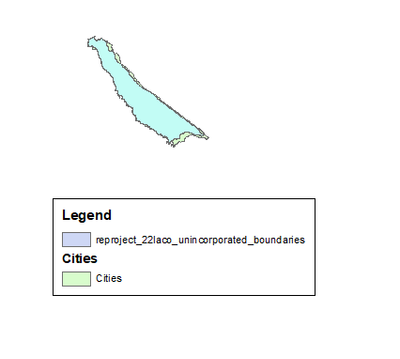 3 Replies

MVP Esteemed Contributor
Mark as New

Bookmark

Subscribe

Mute

New Contributor III
Mark as New

Bookmark

Subscribe

Mute
Hi Jayanta thank you for this info it is good to know. I tried your suggestion and the data doesn't seem to move at all. I have tried several transformations and followed the suggestions of the table listed below to no avail.


Occasional Contributor
Mark as New

Bookmark

Subscribe

Mute
shot in the dark here: Make sure your data frame coordinate system is defined as NAD_1983_StatePlane_California_VFIPS_0405_Feet