Occasional Contributor
Mark as New

Bookmark

Subscribe

Mute
This is for ArcGIS 10.8.1 and Python 2.7
Using Blake Terhune's solution [thank you, Blake] shown in the ESRI Community article Export Attribute Table to .csv as a basis to create a .csv file from the selected contents of an attribute table, I need to go one step further and modify that script so that it will cycle through a defined number of Attribute Tables within a defined .gdb. [Leaving the changes out, the script works fine for a single FC.]
To do that I made these changes, which, it appears, to have been wrong. Here's the modified script with the modifications highlighted in yellow: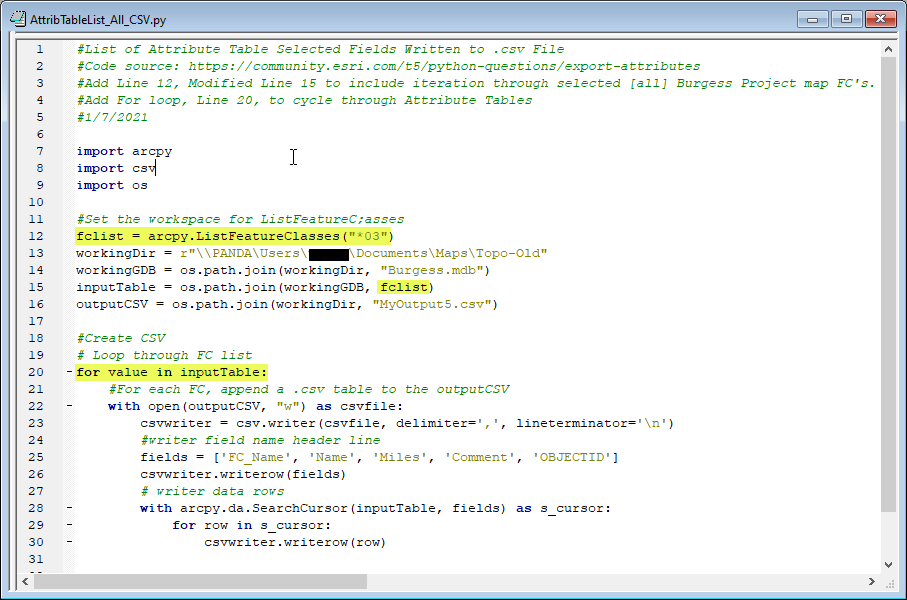 Modified CSV Script
1. I added line 12 which is intended to create a variable that extracts all FC's that end with "03".
2. Then modified line 15 so that that variable defined the array of input tables.
3. Finally added a for-loop as line 20 to cycle through those tables defined by line 15, outputting a – hopefully – concatenated .csv file containing all of the Attribute Table entries.
This didn't work as shown by this run-time result:

ArcPy Error
I checked to see if all the Fields defined in line 25 were spelled correctly – as I gotten a similar error when there was a problem with the field list – but they were all spelled and capitalized correctly. I would be grateful for some guidance on where I have gone wrong, please.
Thanks so much,
1 Solution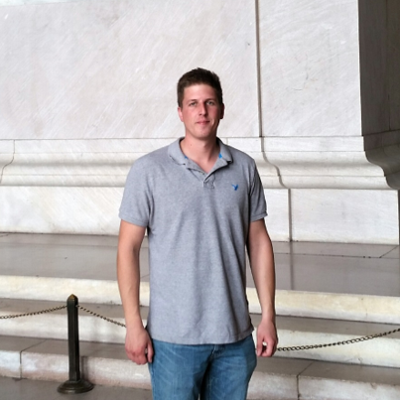 by
DavidPike

MVP Frequent Contributor
Mark as New

Bookmark

Subscribe

Mute
That would probably cause an unexpected indent error, you can do stuff on one line but not if you then indent it, and I wouldn't make it a habit even so as it's probably bad styling.
I'd also recommend adding the code via the syntax highlighter on the forum. click on the ellipsis '...' on the right hand side of the options, then insert/edit code sample - </>

this makes it much easier to read and adjust supplied code.
what i meant was:
for value in fclist:
    inputTable = os.path.join ....
    with open(outputCSV, 'w') as csvfile:
        csvwriter = .....
4 Replies