New Contributor III
Mark as New

Bookmark

Subscribe

Mute
I am trying to share a map as ArcGIS RunTime content, so all the data has to be from the same source. I have all my data in a local folder on desktop. When I list the layers by source in the TOC, the rasters appear to come from a "different" source. It is the exact path name as the vector objects but with '\' at the end. This is why the rasters are being left out of the .geodatabase file i'm assuming. Anyone know why this is happening?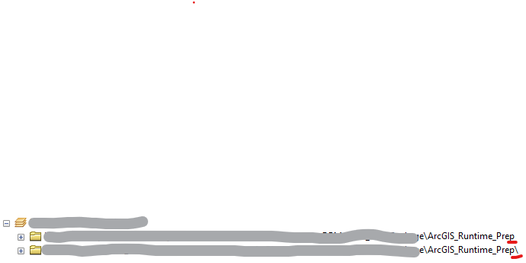 1 Reply

Not applicable
Mark as New

Bookmark

Subscribe

Mute
Hi,
To me the '\' seems to imply that the raster data has been created and stored in a folder within 'ArcGIS_Runtime_Prep', whereas, your vector layers are stored in the folder 'ArcGIS_Runtime_Prep'. So they are on different folder levels and in different source locations. Therefore, changing the raster layers data source or reassigning it may fix the problem.
To do this, use the Set Data Source button on the Source tab of the Layer Properties dialog box.
Hope this helps.