New Contributor II
Mark as New

Bookmark

Subscribe

Mute
I have created a web app within ArcGIS portal and have a feature class as shown below. The feature class has two fields, City Council Action and PZC Action, which have a coded value domain (0= null, 1=Approved, 2=Denied, etc). When I click the feature class the popup displays the domain properly and everything is working as it should.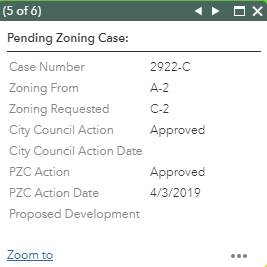 However, I am trying to use the Info Summary widget and have the features grouped by PZC Action Date. I have two issues with the widget which seem to be related. First within the Info Summary widget it does not show the City Council Action at all but instead shows "undefined". When you click the exact same feature from within the Info Summary widget it shows the popup for that feature, but seems to change the attribute from Approved (code of 1) to 0.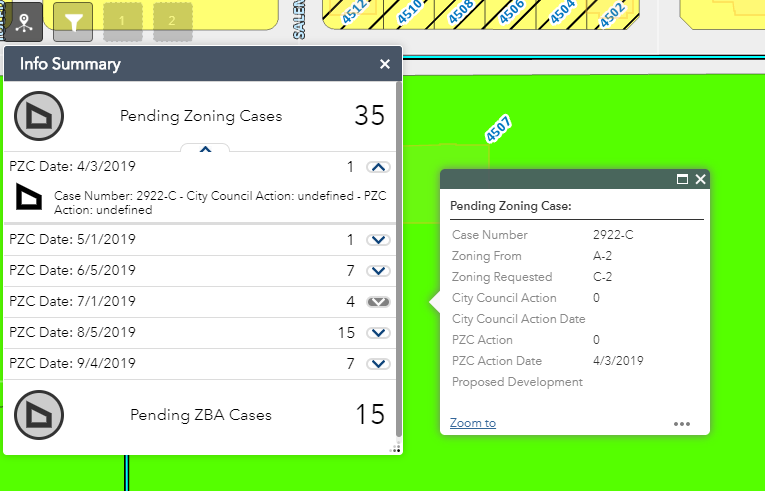 2 Replies

New Contributor
Mark as New

Bookmark

Subscribe

Mute
I have the same issue. Did you ever find a solution?

New Contributor II
Mark as New

Bookmark

Subscribe

Mute
I have noticed this behavior as well. I thought it was an issue with the map service until I saw the popup works normally when clicking from directly on the map
Here's an example web app where you can see the problem. Click on one of the polygons to see the popup. Then click on the info summary group to expand, and click on one of the features there. You can see the differences in the domains.
I wonder if the Info Summary widget has its own popup configuration that is not (yet) user configurable.