New Contributor III
Mark as New

Bookmark

Subscribe

Mute

Email to a Friend
Good morning community,
I have a web application built using Web AppBuilder with the Basemap Gallery widget. I want to show OSM, Imagery with Labels and Topographic basemaps. I imported those three using the Configure Basemap Gallery window, but an extra basemap shows up that looks like the map layer in the app. Here is a screenshot: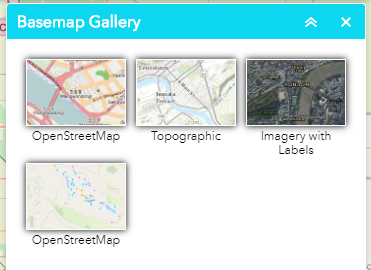 I removed the other three layers and then the second/lower OSM still appears: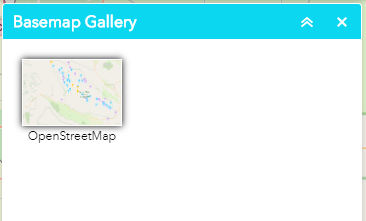 I couldn't figure out how to fix it in WAB and so I went to the web map to see if it was something in there.
No luck. Any help would be greatly appreciated!
2 Replies

MVP Esteemed Contributor
Mark as New

Bookmark

Subscribe

Mute

Email to a Friend
Feride,
That remaining basemap is the one that your apps web map is using that is why it is showing after you remove all the others. and the reason why you have four in your first image is that though both have a label called "OpenStreetMap" they are not identical.

New Contributor III
Mark as New

Bookmark

Subscribe

Mute

Email to a Friend
Thanks - I'm working with a map and app that a student built. I went back to the map and just selected OSM for the basemap. That cleared it up. Thanks so much. I don't know where the other basemap came from as I didn't even see it as an option. I am guessing it was a custom basemap or the current map was set as the basemap? I appreciate you helping a rookie user!