New Contributor III
Mark as New

Bookmark

Subscribe

Mute
Hello WAB Dev Team,
Just FYI, I think it may be necessary to modify this line in the showResults method of the Geocoder widget. A subLayerId of 0 is falsy so the feature.infoTemplate end up being null and it's infoTemplate is not recognized. As a workaround I had to change the index of the subLayer with the infoTemplate so that it's subLayerId would be 1.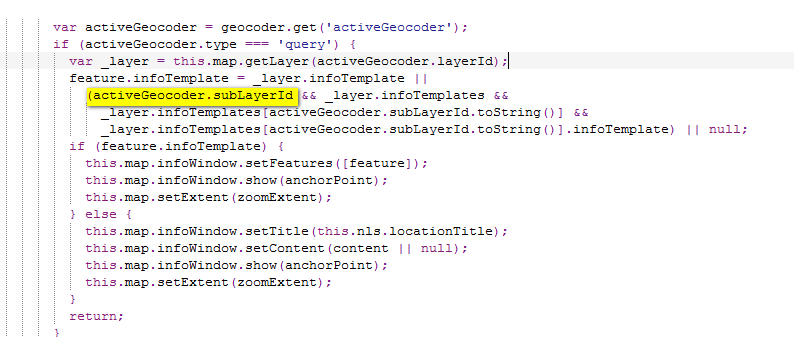 2 Replies

Regular Contributor
Mark as New

Bookmark

Subscribe

Mute
Ryan,
I am interested in what you are doing here. Can you explain more about the sublayerid and what you changed in your code? From the looks of it I can't see any difference in the code you provided and the code in the Dev version 1.1 unless I am just missing it.
-Stan

New Contributor III
Mark as New

Bookmark

Subscribe

Mute
I didn't make any changes to the code. I'm suggesting that the Dev team look into it. I had an issue here because I have a web map with a map service. I'm using the first layer within the map service for searching. What I understand to be occurring in the code block provided is:
The 'feature.infoTemplate' value is set to the layer's infoTemplate property if it exists which it doesn't in my case because the layer is an ArcGISDynamicMapServiceLayer which has no infoTemplate property.
The expression then evaluates the line that I highlighted which I believe was intended to determine if the activeGeocoder.subLayerId exists (i.e is not null or undefined). Because the subLayerId in my case is 0, both sides of the '||' in the expression are falsy so null is assigned to 'feature.infoTemplate'. In the following code block the 'feature.infoTemplate' is interpolated which is not what I want.
My workaround was to make the search layer the second layer in the web map so that activeGeocoder.subLayerId is 1 and the expression evaluates properly.