New Contributor
Mark as New

Bookmark

Subscribe

Mute

Email to a Friend
I am using an organizational arcgis online hosted feature layer. This layer is setup as editable.
I have a web app configured using web app builder through arcgis online.with an edit widget so organizational users can edit the hosted feature layer attributes only. All the editing portions work as I want with the editing settings set both on the feature layer and the web app edit widget.
My issue comes in with the info summary widget.
I want to use this widget as a visual reminder of what features still need to have attributes filled in by users. For my purposes I want a complete feature count not what is in the current extent, so I used the show all features checkbox. Also I configured the widget so that it groups by organizational districts.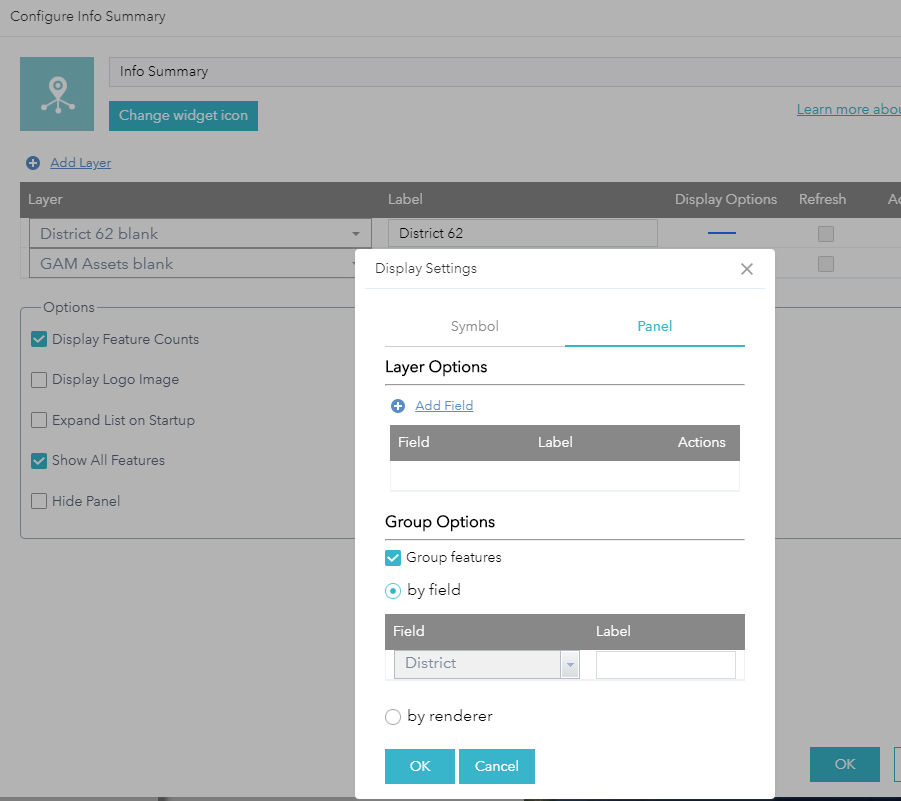 This is what the widget shows.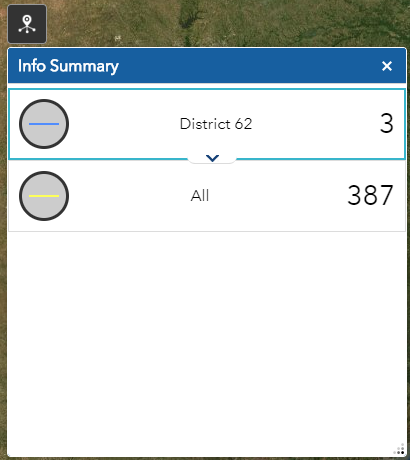 Accurate information.
The user then edits the layer's attributes for one feature using the edit widget. The info summary information does not update automatically. I have changed the extent, clicked to close the widget panel an then reclicked to open. It still shows the information from when the web app was opened.
I can get it to update the District 62 (2 features in this graphic) and the All (386 here) if I click the circle to deactivate the count and then click to reactivate. Not great that the user has to initiate a reload but understandable that a trigger might be needed to refresh the data.
However, the detailed listing of layer options will not update with any in web app action, it remains the same list as when the app originally opens. Using the expansion arrow does not change the list below. This behavior is the same if a group option is used as well. So it will confuse users if a total feature count is 2 but it still lists 3 unique features underneath.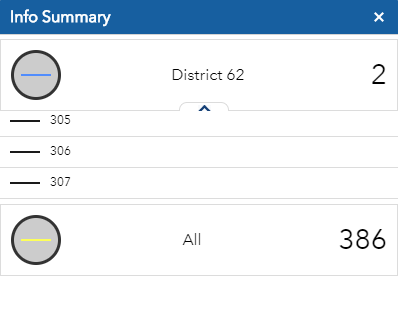 I have the hosted feature layer and the web map update interval set to 1 minute.
I have tried other themes in the web app builder and the widget behaves the same. Even in the dashboard theme which I would assume would be for data refreshing.
The layers used in the summary widget are filtered at the web map but the main feature count (2 and 386) do update on with a click. As I see this used to be a issue a few years ago if the widget was using filtered layers from the web map.
So what am I missing about how the info summary widget should work with complete feature counts and the expanded list under the feature count?
Thanks.
1 Reply

New Contributor II
Mark as New

Bookmark

Subscribe

Mute

Email to a Friend
I am seeing this same behavior with the widget in ArcGIS Enterprise.