Occasional Contributor III
Mark as New

Bookmark

Subscribe

Mute
Hi All
There is something strange happening with the date picker when viewing Survey123 forms as a WebForm. When you select the date picker, the date is correct, but the day is two days in advance. For example todays date is Thursday 11th August 2022, yet the date picker calender is showing the date as Saturday 11th August 2022.
This is happening with any form published to our enterprise portal, either created in Connect or the Web Form designer. The example below is just a simple date to show whats happening. The first example is the published view and the second is the preview which displayed ok.
The survey123 app is showing the date as expected, its just happening on the web form.
Plus go forward or back a month and the day and date display correctly, but August still remains off by two days
Does anyne have any idea whats happening here? This seems to be a relatively new occurance, I cant recall this happening before
August 2022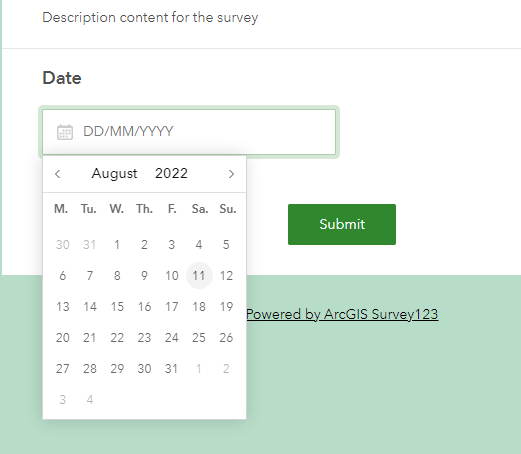 Published form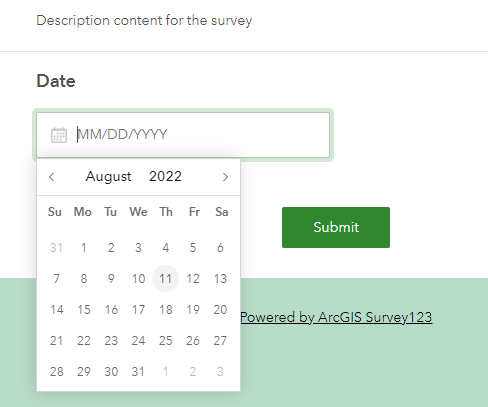 previewed form
1 Solution

Esri Contributor
Mark as New

Bookmark

Subscribe

Mute
Thanks for sharing here!
This is an issue with our date picker component. It happens in some languages and locales in August. The web app uses the language&locale set in the browser and profile, and the above screenshot shows a survey that is rendered in a certain locale which leads to the issue.
We will try to fix the issue in the recent update, and I will reply to this post once the fix is ready.
Currently, adding ?locale=en (or &locale=en) to the survey URL may fix your issue.
Please let me know if you have more questions. Thanks again!
Bests,
Ruth
4 Replies