Esri Contributor
Mark as New

Bookmark

Subscribe

Mute
Hi - I've created a Survey from a Feature Service using Survey123 Connect. The Feature Service comprises a point Feature Layer with a Related Table. The fields/questions within the Related Table sit within a Repeat. I'm trying to 'automatically' pre-populate fields (Base Score, Compliance Score, Total Score and Frequency) in the parent Feature Layer (using a Calculation) with values from fields in the Related Table – here is a simplified mock-up:

It works fine in Survey123 Connect 'Preview' and it works fine when I open via 'Collect' in the Survey123 Field App. However, when I open the survey from the Inbox of the Field App, the 4 fields with Calculations in the Feature Layer get a green refresh button which the user must click to run the Calculation (they don't update automatically):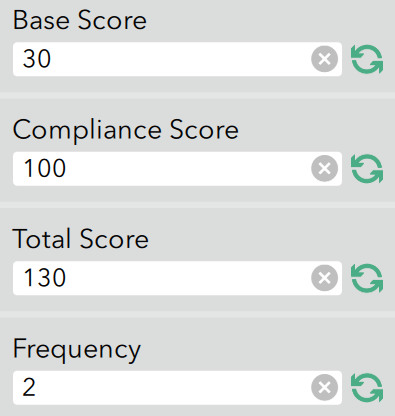 Do you know if it's possible get these fields to update automatically without having to click the refresh buttons?
Thanks
1 Solution
Esri Contributor
Mark as New

Bookmark

Subscribe

Mute
Hi - I managed to come up with an option for this using Doug's suggestion of using Calculate and Note type questions - thanks to Doug and James for their input! This is my revised mock-up of the form:
I changed the fields in the parent Feature Layer to "Calculate" type questions, which means they're not visible on the form. However, the calculations on these fields now fire automatically, no need for the user to press a refresh button. The two fields that I do need to show on the form (next_date_note and previous_date_note) are added as "Note" type questions with basic Calculations on them to update based on the (now hidden) Calculate fields ( Next_Date and Last_intervention).
Hope that makes sense and is useful to someone else in the future.
Thanks,
Mike
8 Replies