New Contributor III
Mark as New

Bookmark

Subscribe

Mute
After using a locally hosted locator view from the Geocoding Service for nearly 2yrs, we recently started experiencing behavior where our field users try to manually input an address and the survey does not capture their input. Instead it reverts the address back to NULL.
Most of the time the user is able to manually input their address info when outside of cellular reception and/or the reverse geocoder works as expected when able to login.
This behavior appears to be sporadic.
The users were able to get their manual input to 'stick' after trying 6-8 times.
Could this be a connection issue? Is this a known behavior?
Thoughts??
1 Solution

Not applicable
Mark as New

Bookmark

Subscribe

Mute
Hi @JaredRyan1,
Here is an example of how you can get it to work with some additional feilds and logic:
XLSForm example attached below. You would want to make different fields hidden or read only to simplify it for the user, but you hopefully this helps.
I tested this both online and offline and works as expected. If there is a manually entered address it will always be used, if there is no manually entered address, the reverse geocode address is used. If you are offline and then go online, and have already entered manual address, the geocoded addresses get updated, but doesn't affect the manually entered addressed stored in the final address fields.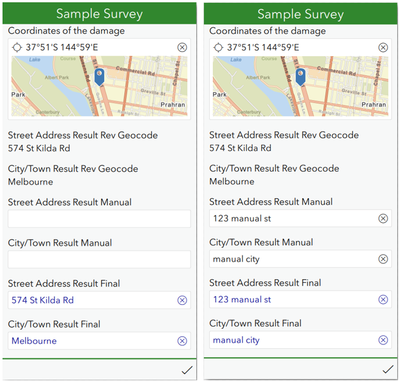 Regards,
Phil.
5 Replies