New Contributor II
Mark as New

Bookmark

Subscribe

Mute
Hello!
I am having some trouble while trying to export the data collected through Survey123. There is one text field exported without the data. This specific question has some rules in the Relevant field. I think I might have missed out something and wish some of you could help me find a solution for that.
The survey has a select one question (q02_Logradouro) in wich the we can choose between street, avenue, road, etc.. Then, for each one of these options, there is a text field related (q02_Logradouro_Rua; q02_Logradouro_Avenida; q02_Logradouro_Rodovia; q02_Logradouro_Alameda; q02_Logradouro_Travessa) for us to enter the name of the street, avenue, road, etc., each one shown only if the correspondent option is selected. There is a "other" option with the same logic, and it is working perfectly fine.
The problem here is that the text field for the name of the street, avenue or road isn't exported among the other data collected. I've already tried exporting it in FGDB and CSV. Also, on the Survey123 Data tab, the data corresponding to the text field appears normally when I search it on the complete entry, but still doesn't appear on the Survey123 spreadsheed.
I've attached some screenshots of the xlsform, the exported data and the Survey123 spreadsheet (had to blur personal information out of it), as well as the survey xlsform itself, hoping that it can help you understand the context better and maybe help me find a solution for this.
Thanks for your attention.
1 Solution

Esri Regular Contributor
Mark as New

Bookmark

Subscribe

Mute
Does the data not show in general for all entries or only for certain filled information? I just tried to reproduce the issue and I am wondering if you maybe just not see the right column? I am having 5 columns with the same label that all show the data correctly.

Sometimes, when you add additional fields after publishing the survey, the new fields are added at the end of the table. So maybe check in the list of attributes if you are seeing all of them (far right of the attribute table in Survey123):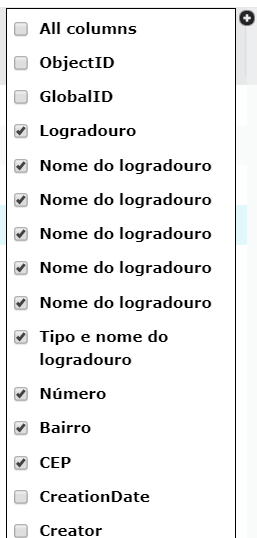 If this is not helping, I normally start from scratch again to find the problem. In this case I published now for example only the problematic fields in their context to test them.
Good luck!
5 Replies