New Contributor III
Mark as New

Bookmark

Subscribe

Mute
We have a number of surveys that use the table_list appearance to present a number of questions with the same choice. The list displays fine in Survey123 Connect and up until about 2 months ago displayed correctly on phones and tablets. We use both iOS and Android but I have only been able to see this on iOS devices and cannot confirm it also occurs on Android but it does the same on Windows. The headings do not display in the survey form.
Screenshots show the form preview in Connect and the XLSForm for the survey.
any ideas?
Len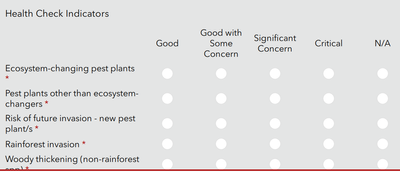 2 Replies

New Contributor III
Mark as New

Bookmark

Subscribe

Mute
OK, further to this. The table-list is within a repeat that can be collapsed or expanded. By default, it is expanded. If you collapse it and then re-expand, the column headings are there as expected.

Esri Regular Contributor
Mark as New

Bookmark

Subscribe

Mute
Hi Len,
I was able to reproduce the behavior you're seeing, and I've filed an issue for it to be addressed.
In the meantime a possible workaround could be to change the appearance of your repeat to 'compact' so it is collapsed by default when the survey form is opened.
Thanks,
-Barbara