New Contributor III
Mark as New

Bookmark

Subscribe

Mute
Hi,
I'd like to report a bug on calculates within repeats of web forms.
The calculate fields from the first inserted item are always
updated accordingly the last modified item, causing wrong
calculation values being sent to the data store.
The same problem doesn't happen with the field app.
Form:

Behaviour on the web:

Error web form
Behaviour on field app: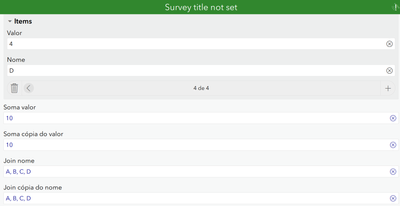 Published with Survey123 Connect 3.12.230
2 Replies

New Contributor
Mark as New

Bookmark

Subscribe

Mute
Hello,
Have you been able to resolve this error? I have been developing a form with a repeat that has calculated fields and have recently noticed the same outcome in the web form only. The first record's calculated attributes are being recalculated based on the subsequent entries in the repeat. I have been testing this error using different browsers and devices with the same outcome in the web form. I did not notice this error until recently.
Any assistance you could offer would be greatly appreciated.
Published with Connect 3.12.232

New Contributor III
Mark as New

Bookmark

Subscribe

Mute
I've contacted tech support. It's a BUG =/