New Contributor
Mark as New

Bookmark

Subscribe

Mute
Hi. I was wondering if anyone can point me in the right direction? I have created a survey in Survey123 connect XLSforms and I have tried to add a geoshape question so that the user can draw a polygon around features on a map. While I was testing the survey, it seems that polygon moves. I would expect it to remain where it was drawn. I have some screenshots attached for #1 where I originally drew around the racecourse and then submitted the geoshape question #2 after submitting the question and #3 after going back into the question to check.
Can anyone give me some pointers to what I might be doing wrong?
3 Replies

Esri Regular Contributor
Mark as New

Bookmark

Subscribe

Mute
Hello @CoreyMosen,
We have an internal issue for this behavior that looks to be resolved in our latest 3.14 builds. If you download the latest 3.14 builds from our Early Adopter Community and re-test does the same issue occur?
If so are you working on an Android device?
Thank you,
Zach

New Contributor
Mark as New

Bookmark

Subscribe

Mute
Hi Zach
Thanks for the reply. I updated both my Android and the Desktop version of Survey123 connect and had another play around. I have worked out that the shape moving occurs sometimes, depending on which map I have as a basemap. For example the World Imagery map behaves normally and the drawn shape moves in place when you move the background around and after submission, it is in the right place. With the NZ Imagery (Classic) map, the shape ends up in a slightly different location after moving the background map around and after submission.
I am happy that I have it working with the World Imagery map but also interested to know why it might be behaving differently with the other maps.
Cheers
Corey

Occasional Contributor III
Mark as New

Bookmark

Subscribe

Mute
Are you sure it's not the underlying imagery that's changing?
It's very possible for a building in "World Imagery" to be at a different lat/lon than "NZ Imagery (Classic)" due to inaccuracies. Even within the exact same imagery layer, different zoom levels can draw from different imagery collections with misalignment issues or perspective distortion issues.
Example: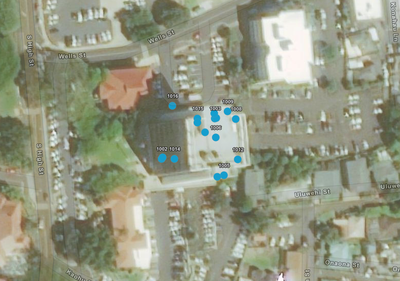 Exact same point data and basemap, but zoom level +1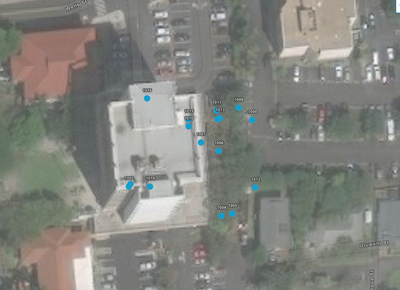 If you want to see if this is the case, try using something like the "Community" vector basemap that stuff like building footprints as lines instead of actual imagery. If you draw a polygon using that basemap and then render it in the feature report with the exact same basemap layer, I'd expect it to be in the same spot in both