Mark as New

Bookmark

Subscribe

Mute
Hello, I am part of an ERC-funded research project that is using Survey123 Connect.
In our beta survey, respondents can select their region(s) of interest by drawing multiple polygons on the map using the repeat option. However, we would prefer to provide a template for respondents to discourage them from drawing polygons over extremely large areas.
We would like to create a selectable-grid layer (something like grid polygon layer created by fishnet function in ArcGIS but with selectable cells), then import this to Survey123 Connect, allowing respondents to click and select one or multiple cells of the grid to choose their region(s) of interest.
From reading online, I know that Survey123 does not allow multiple polygons to be drawn on one map without using a repeat. I could not find any online threads relating to an interactive map with a selectable layer for Survey123. In short, I am wondering if these options are possible in Survey123, perhaps through coding? If yes, does anyone know how time-consuming/coding heavy it would be to produce such an interactive layer and would such a layer be compatible with the Survey123? If so, would there be any help available with the coding from esri support staff?
Thanks!!
3 Replies

Esri Notable Contributor
Mark as New

Bookmark

Subscribe

Mute
Mark as New

Bookmark

Subscribe

Mute
Thanks for your response!
I have exported and edited my SVG file so that each clickable element has an id corresponding to the 'name' column in my choices list. I opened the file in Inkscape to make sure that the object ids matched the right cells. The svg is saved in the media folder of my survey and I have the file name in the media tab of my select_multiple question. The appearance of the question is set to image map.
The image-map appears in the desktop version of Survey123 and I am able to click and select multiple cells. But, in my published survey in the web browser, the svg appears as an image that is not clickable, with the choices in a list below. I don't know what I am doing wrong.
Mark as New

Bookmark

Subscribe

Mute
The following photo is how the image looks on Survey123 Desktop. I can click and select various cells.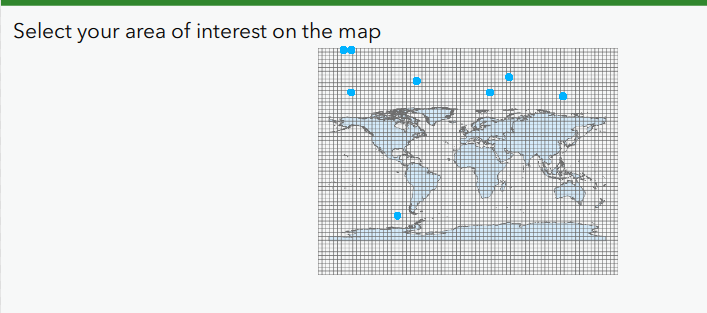 When I publish and access the survey through the web browser, the svg appears as a non clickable image with choices below: